Retired Baldwin High School teacher, coach born to be pioneer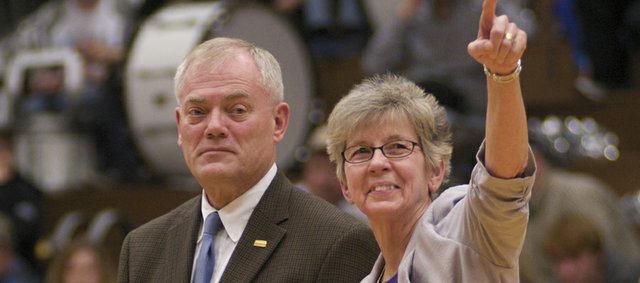 Baldwin City resident Ginny Honomichl has been a pioneer for much in Kansas.
In the 1970s she started the girls track and basketball programs at Russell High School in Russell. She also started the softball and boys' tennis teams at Baldwin High School. She was the first person on the Kansas State High School Activities Association board who was not a school or district administrator, and most recently she was honored as the first coach in Kansas to receive the National Federation of State High School Associations National Coach Contributor Award.
"I think that's what I was put on this Earth to do, pioneer some things, and it's an honor," Honomichl said.
Honomichl has been retired from BHS for five years. She worked there for 22 years as a girls' tennis coach and science teacher. During her time there she also helped start and coach the softball and boys' tennis programs. Previously, she taught for 16 years at Russell High School, where she began her coaching career.
When Honomichl first began coaching she had no experience in tennis. She used books and magazines to learn about the sport, and as she stuck with the sport she continued to learn.
Debbie Oakleaf, whose two daughters were coached and taught by Honomichl, said she was a terrific teacher and coach because she cared about the players as people and took an interest in each one personally.
"She goes above and beyond in being there for them and in teaching them as much about life as she does with the sport she's involved with," Oakleaf said.
As Honomichl grew more comfortable as a coach, she began to take on other leadership roles within the coaching community. She served as an officer in both KSHSAA and the Kansas Coaches Association. She is a lifetime member of the KCA and served five years as president of the organization. She also served the National Federation Coaches Association as a board member, a member of the Coaches Education Review Committee and a member of the Sportsmanship, Ethics and Integrity Committee.
The NFSHSA National Coach Contributor award is a tribute to what Honomichl has done at the local, state and national levels as a coach. The nomination process allows one current or former coach from every state to be nominated by the state association and then a selection committee picks the winner.
"When I found out I was totally shocked because I didn't know that the state was choosing to put my name in the contention," Honomichl said.
Other honors Honomichl has collected include the Kansas and Class 4A Coach of the Year for boys and girls tennis and softball, the KCA Softball Coach of the Year and the NFCA Citation Award. She was also one of three nationally honored for the Disney Channel American Teacher Award.
Honomichl said although winning the National Coach Contributor Award was an honor, it wasn't just about her contributions. It is an achievement of the entire community and all who have been a part of her journey as a coach and teacher.
"I happen to have the plaque at my house, but it's everyone's to be shared who was part of it," Honomichl said.