Baldwin City Council approves $7.17 million bond sale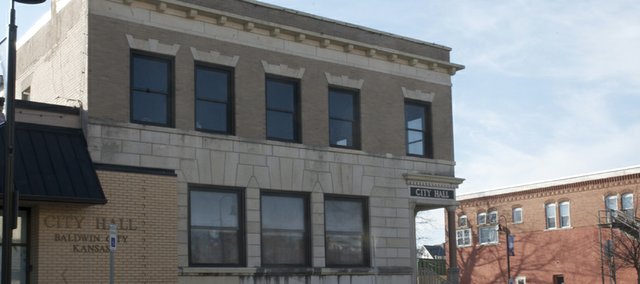 The Baldwin City Council has approved a long-anticipated bond sale, which will save the city $180,000 in interest payments.
Through approval of two measures on Monday, the council authorized the sale of a $7.17 million bond package, which includes financing for several recent and upcoming projects, as well as the refinancing of existing debt. The council approved selling the bonds to Commerce Bank, which earlier in the day had the lowest of the six bids with a 2.06 percent interest rate on the 20-year bonds.
City financial consultant Tom Kaleko, of Springsted Financial, said the bid would save the city $180,000 on the refinancing portions of the bond package. That was better than the $132,000 it was estimated the city would save in a report on the proposed sale prepared in December, he said.
The council has been putting the pieces of the package together for several months through passage of a charter ordinance, which allows it to refinance sewer debt, and the final North Sixth Street sewer benefit district allocations.
The sale included an arrangement with the bond underwriter that paid the city the value of a slightly higher rate, or $300,000, so that the bonds would be more attractive to investors.The projects and refinancing measures in the bond package include:
• $510,000 for the expansion of Baldwin City Library. That debt is to be retired with revenue from the city's quarter-cent quality of life sales tax.
• $2.55 million for last year's North Sixth Street project and coming High and Lawrence streets improvements.
• $115,000 for the North Sixth Street sewer benefit district.
• Refinancing a $3.3 million of existing debt for sewer projects.
• Refinancing $1 million in existing general obligation bonds.
City Administrator Chris Lowe said last week that the city wanted to sell the bonds while interest rates on municipal bonds were at or near historic lows.
"That's a very good rate and certainly better than we have now," Lowe said. "Rates are as low as they have every been, but there are indications mutual funds and other large investors are starting to get back into stocks, which means less demand for municipal bonds.
"The recovery hurts municipalities in respect to bond rates. That's why we're trying to get these sold."
In other action, the council:
• Approved the first reading of an ordinance that would start city council meetings at 7 p.m.
• Approved a resolution calling on the U.S. Congress to leave in place the tax-exempt status of municipal bonds. Lowe said should Congress remove the exemption, as some propose, it would make municipal bonds less attractive in the market and, therefore increasing interest rates.