Art grows from Lumberyard fire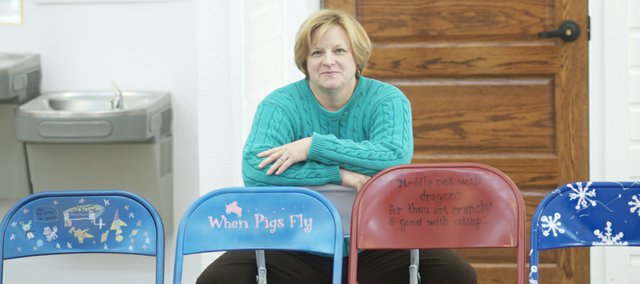 Surviving furniture pieces from last spring's fire at the Lumberyard Arts Center are now adding a bit of whimsy to the center.
The fire in May left the arts center with about 40 folding chairs with scorched or discolored finishes, said Sandy Cardens, Lumberyard gallery director. After casting about for a way to repair them, it was decided to allow artists young and old to take the chairs home to repaint and decorate as part of a contest.
"The chairs were cleaned, but they never looked quite as good again," Cardens said. "It seemed like a good way to get members of the community involved in a fun project that would be good for both the visitors and students at the Lumberyard, as well as the participants."
Winners of the contest in each cateogry were Ella Conover, elementary schools; Sarah Baker, junior high and high school; Christine Rothschild, adult; and Gayle Norris, professional artist. Norris painted dragons on the top and bottom of her chair and a message on the backrest that reads: ""Meddle not in the affairs of dragons for you are crunchy and good with ketchup."
Rothschild, who volunteers at the arts center, said Norris' winning entry was her favorite. She got involved with her husband, Bruce, after encouragement from Cardens, she said.
"Sandy convinced us we needed to release our hidden talent," she said. "I'm not an artist, but I had a lot of paint and stencils."
About 30 of the chairs were distributed and most returned in time to be judged last month in the contest's four categories.
"We have received 20 very creatively painted chairs, so far, although some came in after the competition was over," Cardens said. "There are still about six chairs out being painted."
Cardens guesses those who took the other chairs are waiting for warmer weather to paint them outdoors or in garages. The Lumberyard still has other chairs available for those who would like to try their hand at decorating them, she said. Anyone who would like to decorate a chair should call the arts center at 785-594-3186.