Baldwin mayor praises storm response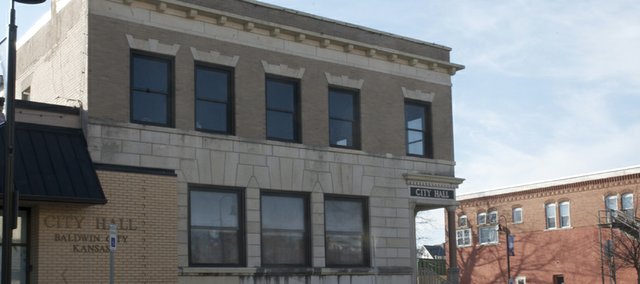 Mayor Ken Wagner praised city departments at Monday's Baldwin City Council meeting for their teamwork during last week's snowstorm that helped to keep residents with power and streets cleared of snow.
The mayor made his remarks after reports to the council from public works director Bill Winegar, electrical plant manager Rob Culley and head linesman Chris Croucher on their departments' responses to Feb. 26 storm.
The three men told of opening streets so Culley could get to the power plant and getting street lights turned on so city crews could more safely plow streets.
"Teamwork," Wagner told the supervisors. "That's what I'm happy about. The teamwork deal of you working together to make things better for the people of this city."
The city did experience a loss of power for a short period at about 5 a.m. the morning of the storm, when the Newton Street transfer station lost the KCP&L feed, Culley said.
The unstable feeds prompted the decision to bring online the city's two generators in the south power plant, Culley said. There were some complications in the process but they were operating and supplying the city by 6: 30 a.m. and continued to do so until 6 p.m., he said.
The city will receive compensation for the cost of producing power from its energy management cooperative, which also includes Ottawa, Gardner, Osawatomie and Garnett, Culley said.
While Baldwin City enjoyed power through the storm, much of southern Douglas County was without power throughout Tuesday, Culley said. Some areas didn't have power restored until Wednesday or Thursday, he said.
Once the generators were operating, the northwest feeder went offline, Croucher said. There was a delay in restoring power because the line crew was required to drive that section of the city to ensure there were no lines down, he said. It was determined the outage was cause by a private plowing contractor hitting a guy wire, he said.
There were smaller outages that followed in the area until about 9 a.m., which he attributed to other privately owned snow plows hitting city electrical boxes.
Winegar said public works used five plow trucks to work the latest storm. Streets were pre-treated on the eve of the storm, a two-hour process, and employees reported to work at 3:30 a.m. Feb. 26, working until 4 p.m. that evening.
It required 22 hours of overtime to clear the streets, Winegar said.
City Administrator Chris Lowe said all city streets were plowed at least once by Wednesday. He contrasted that to Lawrence, where he said two of his family members lived on streets not plowed until Thursday.
Some concerns did crop up. Wagner said the police department should develop a plan to use its four-wheel-drive vehicles to get critical city personnel to their posts during bad snowstorms.
"It really becomes a public safety issue," he said.
Also problematic were the few vehicles left parked on snow emergency routes, especially on Eighth Street north of High Street. Winegar said. City code would allow those vehicles to be towed, although that hasn't been done, he said.
Winegar speculated that most of the offending vehicles belonged to people living in downtown apartments or in Baker University dorms to the north. The city plowed the parking lot in the 800 block of High Street to give downtown residents a place to park off the street, he said.
The presence of the vehicles made the job of clearing the streets more difficult and left them no choice put to bury the vehicles under snow.
The city does not have an impound yard and offending cars would have to be towed to Lawrence, Winegar and Police Chief Greg Neis said. During the worst of the storm when crews were removing snow from city's main thoroughfares, tow trucks probably couldn't have made it to Baldwin City, Winegar said.
Neis said warning tickets were issued, which prompted owners to move most vehicles. But he said his department was prepared to take further action if public works or city officials wanted.
"Anytime you want a car removed, we'll remove it," he said.