Baldwin girls season ends one game short of state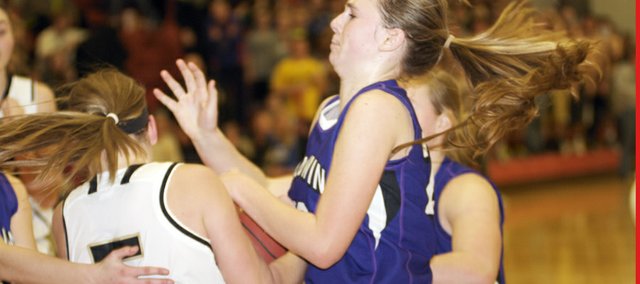 Ottawa — Baldwin dictated the pace against Paola for three of four quarters Saturday but couldn't overcome the one period that it didn't.
Paola held off a late challenge to defeat Baldwin, 41-33, and advance to the state tournament.
Paola, the top-seeded team in the Ottawa 4A girls sub-state, jumped on Baldwin early, building a 18-8 lead at the end of the first quarter. Baldwin recovered in the second quarter relying on the defense that was its strength all season to outscore Paola, 8-3.
"I thought we did (control the pace) after the first quarter," Baldwin coach Bob Martin said. "They are a very good offensive team. They can score points in a lot of ways.
"We just didn't execute on the offensive end. We just didn't get into the flow. Give Paola credit. They did a good job of taking us out of our offense."
Key in the Baldwin's defense effort after the first quarter was keeping in check Paola sophomore Tiana Moala, who burned the Bulldogs for 26 points last month in Paola. The 6-4 center scored seven points Saturday.
Down 18-30 at the start of the fourth quarter, Baldwin used full-court pressure in the final period to swing the momentum. Sophomore Maddie Ogle brought the Baldwin with three at 31-34 when she scored the last of her eight fourth-quarter points with 3:03 to play in the game. The Bulldogs were unable to get shots to fall from that point, and Paola made 4-of-6 free throws in the game's final 1:30 to claim sub-state title.
"We had our chances," Martin said. "We just couldn't get shots to fall."
It was the final game for Baldwin seniors Kelsey Dighans, Callie Enick, Kaitlyn Jorgensen, Jessie Katzer, Katie Kehl and Kailyn Smith.
"I've been around them a long time," Martin said. "They are a great group. I'm not sure what we'll do without them."
Paola 41, Baldwin 33
Paola (18-4) 18 3 9 11 - 41
Baldwin (24-8 ) 8 8 2 15 - 33
Paola: Lyndsee Johnson 9, Remick Paulsen 11, Taylor Williams 2, Kaylee Farmer 2, Morgan Lauden 4, Kelvey Slawson 6, Tiana Moala 7
Baldwin: Kelsey Dighans 2, Maddie Ogle 12, Katie Jones 5, Kailyn Smith 6, Katie Kehl 8,