'

The Ballad of Black Jack' creator dies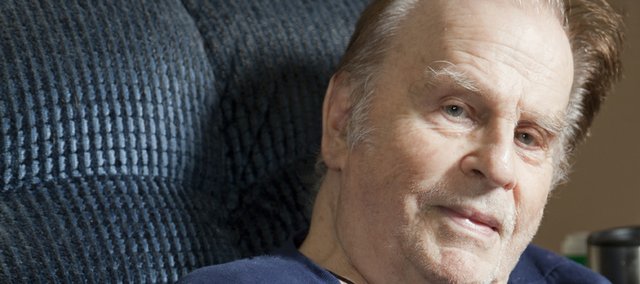 Don Mueller, who wove the early violent history of Baldwin City and Douglas County into a musical, died Monday. He was 87.
A Baker University playwright in residence and speech communications professor from 1969 to 1983, Mueller combined his talents as a lyricist, composer and playwright to pen the 1970 musical "The Ballad of Black Jack."
Commissioned by the Maple Leaf Festival Committee for Baldwin City's centennial celebration, the musical featuring figures from the Bloody Kansas days, "The Ballad of Black Jack" told the story of the skirmish fought just east of what is now Baldwin City between forces of fiery abolitionist John Brown and slave state supporter Henry Pate.
The musical was supposed to be performed only during the 1970 festival, but proved so popular it became a Maple Leaf feature through 1983. It returned to the festival from 2001 through 2005. It was also performed in 1986 for the reopening of Liberty Hall in Lawrence and in 2006 and 2007 at the Lawrence Arts Center.
Steve Absher, of Baldwin City, said he was a two-year member of the Baker pLayman, one of the Mueller-directed traveling theater troupes with pLayity, which performed his religious plays at churches throughout the area.
"Here was a man who could get college students to get up at 3 on Sunday morning to travel miles to a distant church to perform a religious play," said Absher, who is also president of The Battle of Black Jack Inc, a non-profit organization that promotes the musical. "He was highly creative and a man of faith. He saw his music and his plays as his ministry."
Absher said Mueller had a special way of bringing out the talents of performers.
"I played Onesimus, a character from the New Testament," he said. "He was kind of a comical character. Don tended to try to write characters in his plays according to the personalities of people playing the parts."
Mueller also had the ability to build a sense of community among those he worked with and who performed his plays, Absher and Baldwin City resident Robin Miller said.
"He made everything fun and humorous," said Miller, who played the lead role in a presentation of "The Ballad of Black Jack" before handing the part off to her daughter, Sarah Beach. "Everyone was so close. It was like being a member of a church only this was theater. It was family."
In a 2006 Lawrence Journal World story, Mueller said the idea for the musical came to him when he purchased a used elementary school textbook on Kansas history from a downtown Baldwin City store and read about events of Bloody Kansas.
"It opened automatically in my hands because that's the place the kids had read often," he was quoted as saying. "You could see from the smudges on the edge that dirty thumbs had held it open.
"I thought that would make just an ideal basis for a musical."
Mueller continued to refine the musical, cutting dialogue for later performances.
Mueller could adapt the 16 songs in the play, or any song, to work for the performer, said Bob Newton, a cast member in the first "The Ballad of Black Jack" production and many that followed.
"He was probably one of the most talented musicians I've ever seen," Newton said. "He played the piano by ear and could transpose on the fly. If he heard a singer was having difficulty reaching notes, he would take the music a step higher or down. It was the same song but in a different key. Normal humans can't do that."
True to Mueller's wishes, there will be a party celebrating his life rather than a funeral, Absher said. The party will be from 4 to 6 p.m., July 21 at the Lodge in Baldwin City.