Take me out to the ballgame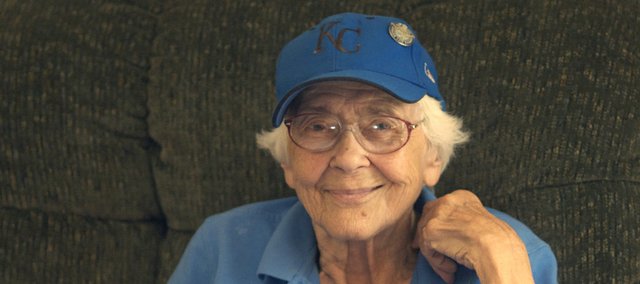 In all her years of attending Kansas City Royals' home games, Mary Swan has never caught a foul ball.
"We're right on the third-base line," the 91-year-old Baldwin City resident said. "It's a prime spot for left-handed hitters. Once when I was with Alice Russell, a ball came right between us, but the guy behind us got it. That's the closest I've came."
Mary's late husband, Tom Swan, visited Royals (now Kauffman) Stadium when it was still under construction with friend and former minor league ballplayer George Malicky to check out where they would get season tickets. A third baseman in his playing days, her husband wanted tickets along the third-base line so that he could watch those fielding that position.
Swan said she didn't think she and her husband had season tickets when the ballpark opened 40 years ago this year, but they did have them soon after.
"I've seen the Royals when they were really good and when they were really bad and finally when they are so-so again," she said. "Every year has been great. It's a great game."
Swan and her husband, who died in 1995, had full season tickets during their early years but found attending 81 games overwhelming. They reduced it to a split package, and she now has a package of a quarter of the games.
"That's ideal," she said. "I don't go to them all, but I get to most of them."
Swan doesn't drive to the games anymore, travelling mostly with the family of Baldwin City resident Connie Deel and sometimes with children or grandchildren.
Deel said Tom chose well when he made the seat selection more than 40 years ago. The seats are in the lower level below the upper deck and thus shaded from the sun and sheltered from rain.
Swan is a very knowledgeable baseball fan who only quit keeping her own scorecard for every game in the last two years, Deel said.
"She's so much fun to go to games with," she said. "She's always very positive. She never gets frustrated when they are slumping. She'll say 'well, maybe next time.'"
A letter recent the editor in a newspaper calling for the firing of Royals manager Ned Yost offended Swan's upbeat attitude.
"Like Yost isn't dying to win baseball games," she said. "I don't think the writer was very smart."
She fondly remembers attending the playoffs and World Series of the late 1970s and early 1980s. The Swans witnessed the heartbreak of losing the deciding game five of the 1977 championship series against the hated Yankees when the Royals went into the ninth inning with a lead. She also remembers the exhilarating come-from-behind game six World Series victory against St. Louis of 1985, she said.
She liked George Brett, Frank White, John Mayberry, Hal McRae and others from those teams, but doesn't have a favorite player from any era.
"I like them all," she said. "That's why I don't wear a jersey, because I don't know who I would pick. I wear a hat, instead."
She and Tom were baseball fans when they met, Swan said. While she was working in Kansas City, Mo., during World War II, they would attend Kansas City Blues minor league games when Tom visited from Fort Riley, she said.
"I remember one time the game went late, and I missed the train back home to Falls City (Neb.) for the weekend," she said. "The next train didn't get in until 2:30 in the morning. My dad was there waiting for me, wondering where I had been. It wouldn't be anything now, but you didn't do those kinds of things back then."
The two baseball fans later planned their vacations around spring training, Swan said.
"Tom had two sisters down in Florida, and we'd always visit during spring training," she said. "They would always say 'it's so nice of our brother to come see us every year,' but Tom was mostly down there for baseball."
In those days, fans could stand at the fence at spring training and "chew the grass" with players, Swan said. Now teams charge for such access, she said.
Those games she can't attend, Swan watches on TV or follows on the radio. But she doesn't intend to give up going to games any time soon. It's an easy walk to her seat from the season-ticket parking lot, she said.
"I'll go until I'm in a wheelchair," she said. "I guess I could go even then and sit in the chair."
Meanwhile, the optimistic fan is hoping the Royals finish the season well.
"I hope they finish above, and not below, .500," she said. "If they did that, it would be great. It's the hitting. Even some of those who should be hitting, aren't doing so well."