Downtown Baldwin City Farmers' Market offers homegrown, homemade and home crafted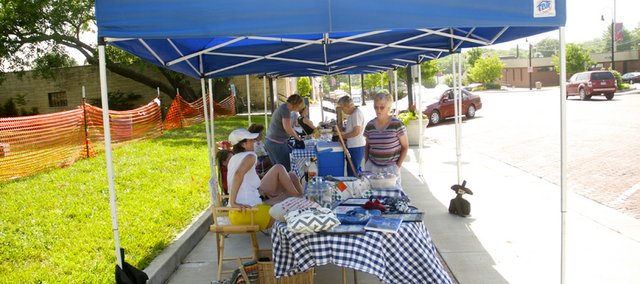 Late Saturday morning, 3-year-old Paulina Martin led her mother Cora Martin past the vendors at the Baldwin City Farmers' Market as she looked for her weekly treat.
"She likes the cookies," the mother said. "We come every week. I like to support local people."
The girl's selection required some thought because three of the eight vendors at the market had cookies among their offerings. All the goods were displayed on tables under tents Baldwin State Bank provides for the markets from 8 a.m. to noon on Saturdays. The tents are only placed on the sidewalk just west of the post office from the first of May through the end of October, but there are vendors at the site on most Saturdays.
Linda Hoffman, of Edgerton, is one of those year-around vendors.
"It's not quite as busy in the winter, but you can get lucky on really cold days. Pity purchases we call them," she said.
She's always there with the 20 types of jelly she makes at home, the salsa her husband, Pete, prepares and the baked goods they both cook, Hoffman said.
"Business has been good today. People were waiting for us at 7:30 this morning," she said.
Nearby, Lisa Jewell was a one-stop diversified vendor. Filling her table was Native American inspired artwork, jewelry, homegrown fresh cherries and baked cherry tarts with their own artistic designs.
"It's an awesome year for cherries," she said. "I have so many. The trees don't look like they've even been picked."
Jewell, who lives in the hamlet of Peoria east of Ottawa, is a regular at the local farmers' market because of ties she established during her years working at Baker University and the joy she gets from sharing her work.
"I just love to paint," she said. "I love it when people respond to my work."
Also happy with the day's business was Ellie Gerstner, who was selling fresh eggs she collects, cleans and packages through an arrangement with neighbors, Pat and Libby Walter. The 12-year-old entrepreneur said she has been coming to the market with her mother Kathy Gerstner since June 2 and sells about 17 dozen eggs a week.
"I want to buy an electric scooter," she said. "But I don't know if my mom is going to let me."
Another family team of Charlene Potter and her daughter Charlene Hannon were down late Saturday morning to a few remaining pies, cookie bundles and rolls from the homemade baked goods they brought to the market.
"The pies will probably all be gone," Potter said. "We have a big family. Anything that doesn't sell will disappear."
Those left-over treats may not be available to family members in coming weeks. Potter and the other vendors expect more customers each Saturday as vegetable vendors start showing up at the market.
"That's what really brings people out — fresh corn, tomatoes and cucumbers," Potter said. "They'll be coming in a couple of weeks. We're anxious to see what they have."