Baldwin City Recreation Commission adding pop to Fourth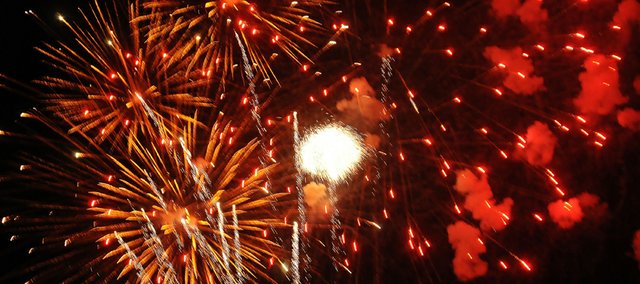 The Baldwin City Recreation Commission will fill the afternoon and evening of July 4 with activities to enjoy the Independence Day holiday, culminating in a fireworks show at the Bullpup Drive ballpark complex.
But city officials are also reminding residents about restrictions on fireworks, and urging people to stay safe.
The festivities will begin the afternoon of July 4 with free swimming at the city pool from 1 p.m to 5 p.m. There will be a dunk tank at the pool and an obstacle course and water slide set up in the park, Baldwin City Recreation Commission executive director Steve Friend said.
Free hotdogs will be given away, and a deejay will entertain the crowd.
The evening's activities will shift to the Bullpup Drive ball field complex. Friend reminds residents that with U.S. Highway 56 closed west of 10th Street, access to the complex is limited to Lawrence Street via High Street.
Evening activities start at 7 p.m. with kickball and family games, Friend said. Next will be a first for the local celebration, a concert from 7:30 to 9 p.m. from the 40-piece 312th United States Army Band. Friend said he expected patriotic music and surprises from the band.
Fireworks will begin as darkness gathers after sunset at about 9:30 p.m. Friend said $5,000 was spent on fireworks — the same as the Baldwin City Commission provided for last year's show — and the display should last about 30 minutes.
All activities are free, but the BCRC is accepting donations to help pay for next year's fireworks.
Baldwin City Fire Chief Allen Craig and Police Chief Greg Neis remind residents that there are restrictions on the type and use of fireworks during the holiday.
Fireworks may be discharged in the city from Monday, July 1, through Wednesday, July 4. Their use is restricted to the hours of 8 a.m. to 10 p.m. Monday and Tuesday and from 8 a.m. to midnight Wednesday and Thursday.
Bottle rockets and similar devices cannot be discharged or possessed in the city limits. Violators will be cited.
The two chiefs suggest that residents adhere to the Kansas State Fire Marshal's recommendations on fireworks use. They include:
• Always read and follow instructions.
• Always purchase high-quality fireworks from a legitimate source.
• Alcohol and fireworks do not mix. Have a "designated shooter."
• Keep fireworks away from small children.
• Adults should always supervise use of fireworks by older children.
• Never ignite fireworks indoors. Make sure your outdoor area is safe.
• Never point or throw fireworks at a person, building, or animal.
• Have a source of water handy.
• Never shoot fireworks in metal or glass containers.
• Never attempt to re-light malfunctioning fireworks.
• When lighting fireworks, never position any part of your body over them.
• Never carry fireworks in a pocket.
• Store fireworks in a cool, dry place.
• Never experiment with homemade fireworks.
• It is illegal to shoot fireworks on or under a vehicle, on any public roadway, within 50 feet of a fireworks stand or where fireworks are stored, at gas stations or any place liquid gas — including propane — is stored.