Summer musical returning to Baldwin City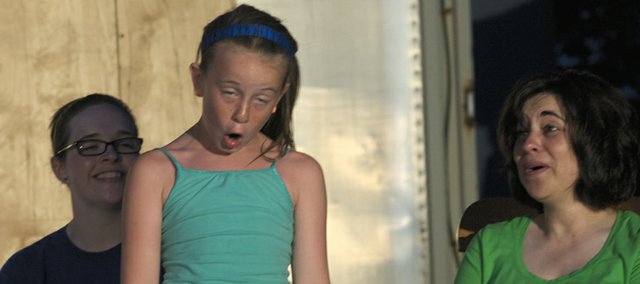 As fireflies flitted through spotlights Thursday evening, performers on a Lotatorium stage belted out "Pickalittle."
The number is one of the songs in Baldwin City Community Theater's production of the 1957 Broadway hit "The Music Man." BCCT Secretary Shelly Todd said it and the other songs performed in the show would be music to the ears of theater-loving residents.
"The Music Man," which starts its two-week seven-performance run Thursday, marks the return of the annual outdoor musical after a one-year hiatus.
"We took a year to rejuvenate as a board," Todd said. "It has helped tremendously. We also heard from the community how much it valued the summer musical. There were a lot of people disappointed we weren't here last year."
The show will be performed Thursday, Friday, Saturday and Sunday and again June 27-29 in the empty lot west of the post office. All performances start at 8 p.m. Tickets are $6 for those 15 and younger and $18 for those 16 and older.
Todd and fellow BCCT board member Joe Bathke said the selection for the musical's return was appropriate because "The Music Man" was set in River City, Iowa, which is a small Midwestern town like Baldwin City.
"We did the fantasy worlds of "Willy Wonka," "The Wizard of Oz" and "Suessical," Bathke said. "This is kind of full circle. It's more traditional fare set in a small town. It's kind of a community within a community with a lot of music people will recognize. It's got songs like 'Seventy-Six Trombones,' 'Till There Was You,' and a pretty good story.
"I think audiences are going to be surprised by how much dancing we have. Kelley Bethell-Smith is the choreographer, and she's turned all of us into dancers. She's gone beyond the call of duty."
Bathke and Todd both have important roles in the musical. Todd plays Mrs. Paroo, the mother of the lead female character, Marian Paroo. Bathke plays Charlie Cowell, a traveling anvil salesman and sworn enemy of the male lead, Harold Hill.
"He's kind of a creep," Bathke said. "I've been told before, I play a good creep. That's good. There's no shortage of creep roles."
The two characters at the romantic center of the musical are traveling salesman/con man Harold Hill and River City librarian Marian Paroo. The two lead actors, Colin Sandall and Courtney Williams, are both teachers in the Ottawa school district and were recruited to the Baldwin City summer production through musical director Matt Keller.
"It's a show I've wanted to do forever," Sandall said. "I love Harold Hill. He shows up in town and is instantly the center of everything. He's always the smartest guy in the room.
"But he ends up growing the most. Like every good character, he figures it out."
Williams said she was attracted to her character's strength.
"I like that she's a strong character," Williams said. "She has morals and ideals and won't change that for anybody. She's a strong, confident person."