Growing tech company finds needed talent in Baldwin City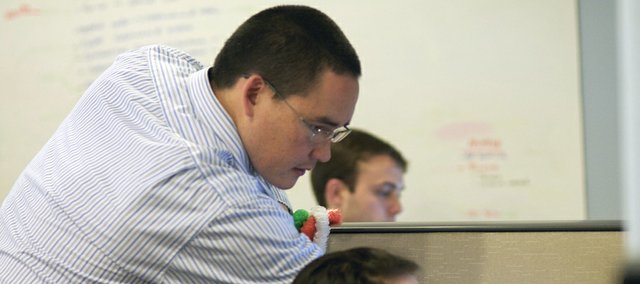 Caleb Watts wasn't swayed by a fancy office when he decided to accept an internship with Reflective Group after earning his bachelor's degree last spring from Baker University.
The young business management graduate's interview was conducted in a storage room of a Lawrence dental office, which at that time was Reflective Group's home.
"I was sitting at a wooden table on a 5-gallon bucket thinking 'what did I get myself into,'" he said.
Watts nonetheless took the position, realizing now famous technology companies had grown from similar humble roots. It paid off, and Watts was promoted in his first year to his present position of vice president of operations and finance.
He also never had to settle into the storage closet office. A week after his interview, Reflective Group CEO and President Mike Bosch and his partners Casey Morford and Josh Strohm moved their 2 1/2-year-old company to Baldwin City. The move came after Bosch decided against relocating the business to his hometown of Dallas.
"Everybody in the company grew up in a small town," he said. "They wanted that quality of life for their children. I was the exception, but my wife is from a small town.
"When I was traveling a lot, I saw the value of a small town. We had neighbors mowing our grass while I was away and helping shop at the grocery store."
Bosch said he also realized Baldwin City offered more than small-town quality of life. It also offered the company an important resource.
"I realized the very thing we look for in a tech company exists in a small community," he said. "That's a very talented, stable work force with a great work ethic that many learned from growing up on a farm."
When Reflective Group moved into a storefront at 622 High Street last June, four employees occupied desks in a small front section of the building. The remaining space was the home of a real estate firm. Now, the real estate company is gone, and Reflective Group's 16 Baldwin City employees squeeze into office cubicles trimmed to fit a building Bosch said the company has outgrown. Two other employees work from home, including a graphic designer in Salina, Bosch said.
Reflective Group emerged from a friendship Bosch and Morford developed at their church. Both were computer geeks who had their own technology companies, Bosch said.
Bosch, who has a Master's of Business Administration from Baker, went into business for himself after serving in the military and working in logistics for UPS.
"Thankfully, my successes were slightly bigger than my failures," he said. "I made about every mistake out there."
Morford, who earned a Master's of Computer Engineering, and his partner Strohm, a 2004 graduate in computer science from Baker University, had developed a web hosting infrastructure that was a solution Bosch needed to grow his own company. Eventually, the three realized they all had talents and skills that would mesh if they merged their ventures. Morford still provides the engineering muscle to make his "hair-brained ideas" work, Bosch said.
From the start, the partners' attitude was they could build their own technology solutions when what was available was inadequate. They also shared a business philosophy founded in their religious convictions that places more importance on doing the right thing than on profit motive, he said.
What has fueled the company's growth, Bosch said, has been offering customers Cloud technology services in a variety of areas. Among the Cloud services and products Reflective Group offers are web hosting, web development, software migration and support, app development and engineering. With an in-house graphic designer, writers, video production capability and engineers, the company offers more than cookie-cutter website design or product services, Bosch said. The partners and employees take the time to get to know a customer so that they can craft presentations and products that fit individual needs, he said.
"Now that we have all this in house, there's very few projects we can't figure out the right solution," he said. "If what's available doesn't work, we'll build it ourselves."
Bosch said the company was fortunate to have employees who understand business constraints.
"The question we always asked ourselves was how we'd do it if it was our money," he said. "A lot of them (employees) are former business owners. We've been able to find in this community really talented people with advanced degrees but who also really get business because they've been through it. That team and that idea is what has driven our ability to create value for customers."
There is enough demand to grow the business, Bosch said. Putting the brakes on expansion is the limited bandwidth available in Baldwin City. To get around the problem, employees work staggered hours or at home, he said.
The ultimate solution is bringing gigabit Internet to Baldwin City, Bosch said. True to his and the company's can-do spirit, Bosch and his partners have decided to actively work for that solution. They have started Dawn Fiber, which will be doing business as FreeState Broadband to bring gigabit fiber Internet to underserved communities. Kennis Mann, a former engineer with Black and Veatch with 30 years experience with electrical and fiber optic utilities, has been hired as president and CEO of Dawn Fiber.
Bosch says candidly FreeState Broadband intends to be the gigabit Internet provider for Baldwin City and Lawrence, fully aware of what that requires.
He has a map of the distance needed to connect them with a gigabit provider in the Kansas City metropolitan area and pegs the cost to bring and distribute gigabit Internet service to Lawrence at $70 million and to Baldwin City at $4 million to $5 million.
He's attended conferences and participated in teleconferences on gigabit service expansion, talked with politicians and regulators on the state and federal level and met with non-profit and corporate executives and angel investors, Bosch said.
Earlier this month, the Baldwin City Council agreed to approach Baker University and USD 348 about their interest in gigabit Internet. Bosch said the willingness of others in Baldwin City to explore gigabit Internet is enough to forestall any Reflective Group move despite the constraints bandwidth limitations puts on growing the business.
"We'll be here as long as there is light at the end of the tunnel and there are people working to make it happen," he said.