U.S.

Supreme Court strikes down Arizonia voting law similar to Kansas statute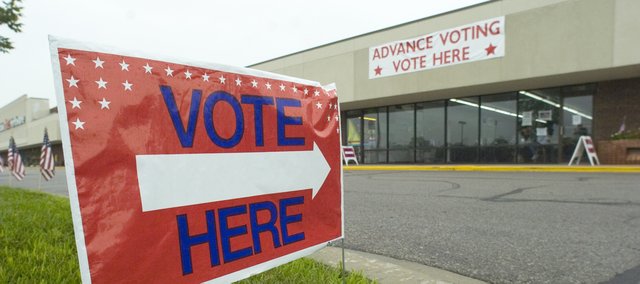 Topeka — The U.S. Supreme Court today has thrown out a law, similar to one in Kansas, that requires proof of citizenship to register to vote.
The dispute focuses on a law in Arizona called Proposition 200 that requires would-be voters to document their U.S. citizenship to register to vote under the federal "Motor Voter" registration law.
Writing for the 7-2 majority, Justice Antonin Scalia wrote that federal law "precludes Arizona from requiring a federal form applicant to submit information beyond that required by the form itself."
While the case focuses on Arizona, it has implications for Kansas, Alabama, Georgia and Tennessee, which have similar laws.
"The proof-of-citizenship requirement in Kansas is almost identical to that of Arizona," said Louis Goseland, coordinator for the KanVote Coalition, which has been working to repeal the Kansas law.
He said the Supreme Court decision was "a victory for those who champion voter rights and a defeat for those who try to restrict the vote."
Goseland said he hopes Kansas legislators will now repeal the law.
He also noted that Kansas Secretary of State Kris Kobach, who works across the nation on anti-immigration and voting legislation, was instrumental in getting both the Arizona and Kansas laws passed.
As of Jan. 1, any person registering to vote in Kansas for the first time is required to provide proof of U.S. citizenship.
Kobach could not be reached immediately for comment, but in the past, he has said the Kansas proof-of-citizenship law was drafted to avoid the legal issues that beset the Arizona law.
Kobach, a former University of Missouri-Kansas City law professor, said the Kansas law doesn't automatically reject federal voter registration forms, as the Arizona law did. Instead, Kansas election officials hold the forms until a person's citizenship can be verified.