Animals attraction for library's summer reading program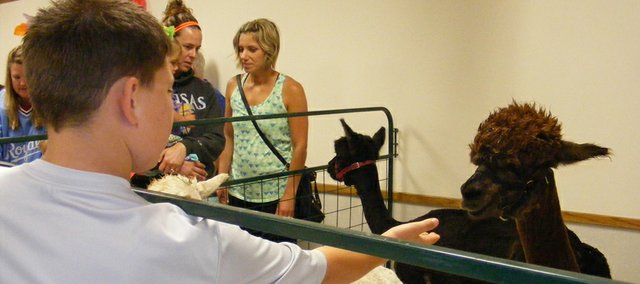 Baldwin City Public Library's summer reading program is off to a good start thanks to regular animal guests.
"You can't miss with children and animals," said Barb Mathews, children's librarian. "For some children, it's the only opportunity to see animals they wouldn't normally see unless they live on a farm."
The theme of this year's program is "Dig into Reading" and explores such things as gardening and critters living in the wild or under the ground, Mathews said. That theme works well with a number of the program's regular presenters, including Operation Wildlife and Claudia Hey of Ad Astra Alpacas. Those two guests presented at the reading program's first two gatherings. The group meets at 10 a.m. Wednesdays.
A June 5 downpour forced the library to set up a pen inside the library's activity room for the alpacas, Mathews said.
"It went great," she said. "The kids had a great time seeing the alpacas up close."
On tap for June 20 will be representatives from Milford Nature Center with some of their animals, Mathews said.
"They will be back from last year but with different animals," Mathews said. "We're hoping they will bring prairie dogs, but that depends on how the animals are feeling that day."
From 300 to 325 children are enrolled in the summer reading program and 100 adults have signed up for the adult program, Mathews said. The number of children already exceeds last year's total and there's still time to enroll, she said.
"Just come to the library and sign up," she said.
Children completing the reading program's goals will receive a gym bag and an invitation to a pool party July 20 at the Baldwin City Pool, Mathews said. The goal for children in the second grade and younger is to read along or have more than 20 books read to them by July 13. For older children older and adults, the goal is to read 10 age-appropriate books or 1,000 pages by the same date.
Prizes will be given to those reading the most books or pages in different age categories, Matthews said.
Young readers wanting to make more of activity days downtown are invited to visit the Lumberyard Arts Center's "Dig into Art" at 10:45 a.m. Wednesdays through July 10.