On her second attempt at tree climbing using the single-rope technique, Rebecca Tripp quickly ascended a 15-foot rope hanging from a branch of a pin oak on the Baker University campus.
"That's as high as you can go," said Dan House, a member of Tree Climbing Kansas City, who was instructing the first-time climber in the technique. "You want a higher tree, don't you?"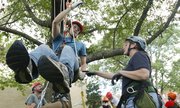 Tripp nodded yes — and lowered herself into her wheelchair. "I used to climb trees when I was a kid," she said. "When I got in this wheelchair, it was something I thought I'd never do again."
Tripp and seven other students from around the country were being introduced to tree climbing Thursday as part of a two-month summer research project that Baker biology professor Randy Miller designed with Meg Lowman, who pioneered the single-rope technique's use in biological field research.
Tripp, who has used a wheelchair since a car accident five years ago, is one of two ambulatory-disabled researchers involved in the project. The eight students in the project will be climbing trees in the area to collect tiny invertebrates called tardigrades, whose appearance under a microscope gives them the nickname water bears.
"We're emphasizing safety first and then proficiency," Miller said. of the tree-climbing exercise. "In two weeks, it will be second nature to them."
Once trained by House and other members of his group in rope climbing, the eight students will gather field data from trees during the cool of the morning at the Baker Prairie, Baker Woods, Baker Wetlands, Kansas University Field Station north of Lawrence, Overland Park Arboretum and Johnson County parks.
They will gather data from five different vertical layers of 10 examples of 10 different tree species on their morning climbs, then spend afternoons analyzing the samples in labs to learn more about the presence and distribution of tardigrades, organisms so hardy that they can withstand the most extreme conditions. The tiny animals even reproduced after a Swedish scientist exposed them to the cold, heat and radiation of space for 10 days.
The eight student researchers arrived in Baldwin City on Sunday, toured the labs that they will be using at Baker's Ivan Boyd Center and received an introduction to the subject of their data collection.
The project will conclude with an August trip to Raleigh, N.C., where Miller and the students will give a report on their findings at the North Carolina Museum of Natural Sciences, where Lowman works.
Miller and Lowman spent about three years developing the research project, which the National Science Foundation is funding. It is different from many research opportunities in that it allows students to gain both field and lab experience, Miller said.
"Field research is a dying art in biology," he said. "Not all answers can be found by studying DNA."
Tripp acknowledged that she was an unlikely candidate for the research project. She wasn't currently in school, having already earned a degree in psychology from the University of Maine. She learned of the research opportunity after she informed school officials of her desire to return to school to study environmental science or wildlife ecology. "I don't have experience in either the field or lab," she said. "It's something I want to study when I go back to school."
And yes, there was the matter of the wheelchair. But Tripp said using her wheelchair had given her added strength in the arms and shoulders and an advantage in rope climbing.
Miller said he and Lowman supported the federal government's push for the inclusion of students like Tripp in research opportunities.
"Dr. Lowman and I both have friends in wheelchairs who do world-class work in science," he said. "You don't have to use your legs to collect field data, work in the lab or write reports."
Also new is the research into tradigrades, said Tony Volpini, who will be a junior studying environmental science and biochemistry this fall at Amherst College in Somerville, Mass. He said learning to climb trees was what attracted him to the opportunity, but the experienced lab hand said he also found the research into water bears interesting.
"I'd heard about them because they are some of the hardiest animals on earth," he said. "You don't see them. But because the basically live on water, they're everywhere."
Miller said that the lack of knowledge about tardigrades made the project intriguing. "We don't know what we will find," Miller said. "So little is known about it compared to other organisms. We do know it has many unique biological features."
But to collect the tardigrades, the researchers have to go climbing.
Anna Spires, a Virginia native and student at Williams College in Williamstown, Mass., said she expected to feel the effects of her first climbs later on unused muscles. The daily workouts would be another benefit of the project, she said.
"I'll get cut," she joked. "It's something new. I'm really looking forward to learning research skills. It's just a real exciting opportunity to get a real look into the life of a research scientist."