KSHSAA

splits 4A for better competitive balance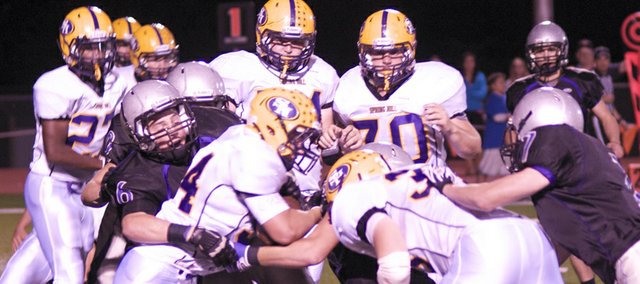 Just as the disparity in Class 4A has gradually inflated, competitive disadvantages have become more and more of a concern in recent years. Tuesday morning, both issues officially became null and void.
The Kansas State High School Activities Association announced Tuesday that the 64-school classification will be split into two 32-team divisions in football, volleyball, basketball, baseball and softball.
The proposal, originally issued last year by the Big Seven League, passed by a 42-22 vote. The split will go into effect immediately for volleyball, basketball, baseball and softball. Football is in the middle of its current two-year district cycle, so it will split in 2014.
In 2012-13, 4A had a disparity ratio of 2.83, meaning the largest school (Highland Park, enrollment of 729) was 283 percent larger than the smallest schools (Frontenac and Rock Creek, 258). The disparity has increased over the last decade, growing more than 50 percent since 2003-04. No other class larger than 1A ever had a ratio larger than 1.98 during that span.
The split results in two divisions — 4A-DI and 4A-DII — with ratios of less than 1.7.
Baldwin High School will be in the upper division, but barely. With a 2012-13 school year enrollment of 456 students, Baldwin is the 31st largest school in 4A-DI, said Baldwin High School Activities Director Gary Stevanus. Depending on enrollment trends here and in other schools, Baldwin could fall to 4A-DII some years.
Stevanus said Baldwin High School Principal Rob McKim voted against the proposal. The district's biggest objection was that the split would create different competition pools for different sports.
"How do you tell a wrestler he has to compete against 64 teams to win a state championship compared to the 32 that football teams are competing against?" Stevanus said.
The split could have consequences in football playoffs, Stevanus said. Depending on how the map is drawn, Baldwin, although only 30 miles from the Missouri line, could be placed in the west during the football playoffs, increasing travel time and costs, he said.
Another concern is a football playoff tie-breaker that penalizes teams for playing schools in smaller divisions, Stevanus said. That is last among the comparisons considered, but it was still a concern among other Frontier League schools, he said.
Currently, all seven Frontier League schools are 4A, and six of them will be 4A-DI teams with the split. Only Eudora, which has played for the 4A football state championship the past two years, is below the cutoff line with a 2012-13 enrollment of 416.
Stevanus said that would change.
"They'll eventually pass us," he said. "The have big numbers in the elementary grades."
The sizes of the other Frontier League schools are Ottawa, 711; De Soto, 676; Paola, 638; Spring Hill, 634; and Louisburg, 495.
The Frontier League was the only league to oppose the proposal.
Other area leagues do not enjoy the relative uniformity of the Frontier League.
The Kaw Valley League has five 4A members — Bonner Springs (708), Basehor-Linwood (599), Tonganoxie (595) and Piper (563) — which will be in the larger division — and Bishop Ward, which had a 2012-13 enrollment of 354 was 209 fewer than the next-smallest league school.
Class 5A schools Mill Valley (1,222), Turner (1,102) and Lansing (878) round out the league's membership.
KVL principals discussed the proposal and ultimately decided to support the idea. The league sent a letter of support to KSHSAA on Oct. 10, 2012.
Nearly all potential 4A-DI schools are located in the eastern half of the state, so travel and scheduling won't be heavily affected. The smaller division is more spread out, which will likely lead to increased travel in the postseason.
"Those types of things were discussed, but we felt they were less important than giving all schools and opportunity to compete," said Bonner Springs principal Joe Hornback, the KVL president for the upcoming year. "We've seen the competitive balance in our league with Ward be pretty wide. Ward said (a split) would benefit them, so as a league, we decided to support it."
Ward's competitive disadvantage is indicative of the current statewide imbalance. Over the last five years, larger 4A schools have won 80 percent of the state titles in the five aforementioned sports.
The split will result in new postseason formats for all sports. Football will no longer require a bi-district round since each division only has 32 teams. Volleyball and basketball will have eight four-team sub-states in each division.
Baseball and softball divisions will fluctuate from year to year because the number of cooperative teams isn't always the same, but each division will have eight regional tournaments with four or five teams apiece.
Ballots were sent to all 4A schools on April 30. The proposal needed 33 or more votes to pass. For a school's vote to be valid, the ballot had to have signatures from the principal and superintendent.