Four-legged therapists help riders gain strenght, confidence and self control at Midnight Farm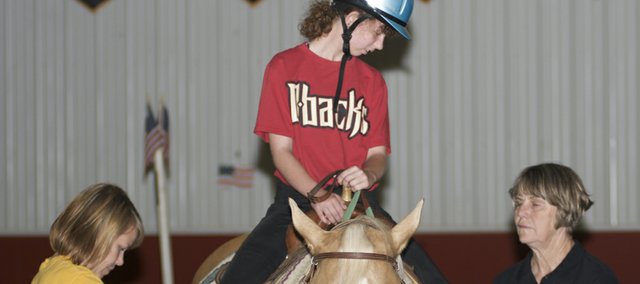 It took five laps around the Midnight Farm horse barn atop the quarter horse gelding Aussie before the big smile on Nikita Jacobs' face disappeared.
It came back to the 13-year-old Gardner girl when she stretched forward to rub Aussie's ears as Community Learning Opportunties Midnight Farm director Colleen Baker explained a Triple Crown competition she designed for Jacobs and two other riders. The competition, which involved three timed laps around the barn — one at a walk and two trotting — didn't go well for Nikita, whose mount was not as energetic as the other two horses.
Her third-place finish didn't bother Jacobs, who took delight in Aussie turning his head to lick her booted right foot as she waited to compete in the third leg of the competition.
Watching all this from windows looking into the horse barn from Midnight Farm's lodge Monday was the girl's father, Mark Jacobs. His daughter entered Midland Farm's therapeutic equestrian program about a year ago after having anger issues, he said.
"They thought this would be good for her," he said. "Through this and counseling, she's mellowed out. She still has issues, but not nearly as bad as it was."
Leaving the barn for a softball game, Nikita was in agreement with Ronald Reagan's opinion that "there's nothing better for the inside of a man than the outside of a horse."
"They make me very happy," Nikita said. "Every morning when I get up, I ask my mom if this is the day I get to go ride."
A goal of the equine-facilitated psychotherapy in which Nikita is enrolled is to gain better emotional control by developing patience and empathy from riding and caring for horses, said Baker, a certified trainer with the Professional Association of Therapeutic Horsemanship International.
Although the riders in Monday's class where grouped together because of their emotional needs, many riders in Midnight Farm's therapeutic equestrian program benefit physically from their time in the saddle, Baker said.
"The movement of horseback riding is very similar to our movement when walking," Baker said. "For those with brain injuries, repetition of those movements helps reconnect that part of the brain."
The movement also builds muscle tone, as does the act of sitting in the saddle, Baker said.
She has witnessed amazing breakthroughs, Baker said, such as emotionally distant clients hugging their horses or previously non-verbal autistic riders saying their first words.
"Our instructors are told to allow the students to hear all the commands," she said. "We've had riders who have never talked utter 'walk on' or 'whoa.'"
For others, riding is a chance to get outside confining environments.
"We have riders who are never out of a wheelchair except when on a horse," Baker said. "We have one graduating high school student who has very involved cerebral palsy. He just gets teary eyed. He says getting on a horse is 'freedom.'"
She also sees riders grow as they care for the large animals and master horsemanship, Baker said.
"We have students with such low self-esteem," she said. "This gives them something other kids don't have. They can say 'I ride horses.'
"I've seen so many special things. It's a wonderful job."