City to approach Baker, school district about interest in bringing Internet upgrade to Baldwin City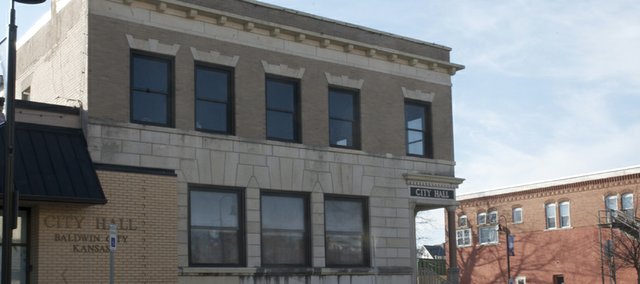 Baldwin City should start a dialogue with two likely local partners as the first step to bringing gigabit fiber optic Internet to the community, the Baldwin City Council was told Monday.
City Administrator Chris Lowe presented the Baldwin City Council a five-page report on gigabit fiber optic Internet capacity and initial thoughts on what it would take to get it extended to the community. Lowe stressed the report was meant as an introduction to the issue and he had no recommendations, including whether the city should pursue the upgrade.
Gigabit capacity is the ability to download or upload via the Internet 1,000 megabits of information in a second, Lowe said. Currently, he can download about 4 megabits per second at his home computer, he said.
Lowe has attended several meeting on gigabit capacity in recent weeks, including one in Dallas featuring Milo Medin, vice president of access services for Google.
Bringing gigabit capability to Baldwin City would be a very expensive infrastructure investment, short of the unlikely prospect a private provider decided to extend the service on its own, Lowe said.
That's why approaching the two biggest likely partners — Baker University and the Baldwin school district — is the obvious starting place, Lowe said.
"If Baker says they don't need it or the school district says no, it's dead in the water," he said, adding that he doubted that would be the case.
It was through similar partnerships that Ottawa and Chanute managed to bring gigabit service to their cities, Lowe said. Major players in Ottawa's gigabit capacity, which is not available for residential use, were Franklin County, Ransom Memorial Hospital and the American Outfitters and Walmart distribution centers, he said.
Local industry also played a key role in bringing gigabit capacity to Chanute, Lowe said. The city manager of Chanute has agreed to address the council soon about that city's experience, he said.
He started his research thinking of the Internet upgrade primarily as an economic development tool, Lowe said.
"I changed my mind," he said. "It's about the quality of life in this community for the next 60 years. How long do we wait to get in the game? That's the question and a good one. Maybe not for a while."
His report was meant as a starting point of what will be a long discussion, Lowe said. He likened it to that of city fathers in the early 1900s investing in an electrical power and distribution system.