Baldwin City teen recovers from massive stroke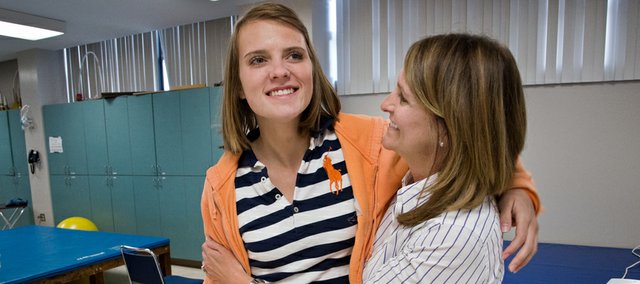 Kansas City, Mo. — While Molly Ogden's Baldwin High School classmates were taking finals and making summer plans last month, the 16-year-old sophomore was relearning how to walk and talk.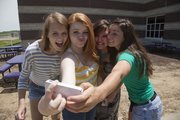 Her task on a recent day at the Rehabilitation Institute of Kansas City: to tell the difference between the words "nose" and "cake."
"Look for the 'n,'" said speech therapist April Jardes, as Molly's wide, green eyes glanced back and forth between two flash cards. She put her finger on the one that said "nose."
"Duck," Jardes said, setting down two more cards: one that read "duck," the other read "pot." Molly got it right again.
"Dime," the therapist said. This time, the teen got it wrong, pointing at the word "web."
While Molly — in a striped polo shirt, blue biker shorts and a barrette in her light-brown hair — looked like a normal teenage girl, she was, for the time being at least, anything but. Six months earlier, a blood clot cut off the blood supply to her brain, causing a massive stroke. Since then, she's been doing physical, occupational and speech therapy almost around the clock.
Her recovery, like her survival, wasn't always a sure thing. At one point, a doctor asked her parents if they wanted to pull the plug. Another predicted it would be a year before she would speak again, and five times that until she could walk.
She's already done both.
Her doctors say she has a desire to get better that they're not used to seeing in stroke victims, many of whom are elderly.
Still, some part of Molly is likely gone forever. X-rays show that a large part of her brain — her father estimates 40 percent — is gone, replaced by spinal fluid. Whether Molly ever returns to normal is unknown. What isn't in doubt is her will to try.
Fateful day
"Mom!"
That's what Alison Ogden heard her daughter yell faintly the morning of Nov. 5. She ran to the bathroom, where she found Molly, unable to speak, the right side of her face drooping. Paramedics rushed her to Lawrence Memorial Hospital, which confirmed she had a stroke. She was then taken to Kansas University Hospital, where doctors put her in a medically induced coma and removed most of the offending clot.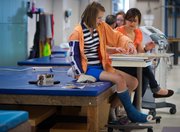 The following weeks were agony. At one point, surgeons had to remove part of her skull to relieve swelling in her brain. At another, a doctor recommended her parents focus on making her comfortable because of her slim chances of survival.
Molly eventually woke up and, after four weeks at KU Hospital, was transferred to the Madonna Rehabilitation Hospital in Lincoln, Neb., where she underwent two months of intensive rehabilitation.
In February, she finally returned home, continuing her recovery at the Rehabilitation of Kansas City. A month later, she was walking again, with the help of a special cast. She returned to school in April.
Molly was active in the community before her accident — at sports, student council, 4-H, church — which is one reason Baldwin City residents have been so supportive of her and her family during these trying times. They've organized fundraisers, placed donation jars at local conveniences stores, driven her to therapy appointments when her parents couldn't.
'Life-changing event'
The experience has been a challenge for Molly's family.
"She's just an extremely beautiful girl, very talented, athletic, popular, smart. She just had everything going for her," said her father, Brad. "For her to know what she's lost and still be able to maintain such a good attitude and keep a smile on her face is what sticks out to me more than anything. Most people, this would probably just crush their spirits."
Her parents have had to juggle her care with operating their painting business and ranch; Alison is also a manager at Jos. A. Bank in downtown Lawrence. She called her daughter's stroke "a totally life-changing event."
The recovery process can be rife with frustration. Molly rarely says more than one word at a time. She sometimes calls her father "Mom" and vice versa. When asked a question, she often parrots the last thing that was being talked about.
Doctors say that while Molly will likely never completely recover, she can still live a long, full life. But because the stroke attacked the part of her brain that controls verbal communication, speaking is going to be a struggle going forward.
"She had a very large stroke, but fortunately she's young and doesn't have a lot of other medical problems," said Colleen Lechtenberg, director of KU Hospital's Comprehensive Stroke Center. "Considering the size of her stroke, I think her recovery is well ahead of what I would hope and dream of."
Her parents have tried experimental treatments and abnormal therapies, with music and horses, and hope that, because she is so young, medical science will eventually come up with something to improve her quality of life.
They continue to see signs of progress. The other day, after her dad had dressed her, Molly went back into her room and changed into a different pair of pants. When he walked in, she said, "Impressed?"
"Yes, I am," he said, not used to hearing her employ such a difficult term for her.
Raising awareness
Last month at the Rehabilitation Institute of Kansas City, Molly passed out orange Popsicles — and awareness. She was taking part in National Orange Popsicle Week, which aims to spread the word about the potential for stroke in young people
The disease is among the top 10 causes of death in children in the U.S., affecting an estimated 3,000 to 6,000 kids every year. But the fact that it's so rare often causes parents, and even doctors, to overlook or misdiagnose symptoms. Time is critical in treating the disorder: Two million brain cells evaporate with every passing minute during a stroke; the blood clot medication tPA can only be administered within the first three hours after symptoms appear.
Unlike in adults, who normally suffer strokes because of poor lifestyle choices, the disease affects children for a variety of reasons.
Doctors are still not 100 percent certain what caused Molly's stroke, though her parents blame a fall she sustained in a powder-puff football game the day before. She dived for a pass and landed on her head; many in the crowd said they didn't expect her to get up, which she did, continuing to play as if nothing had happened. While doctors say that might have played a role, they also point to the open-heart surgery she had as an infant and the condition she suffers from that makes her blood clot more easily than it normally would.
While handing out Popsicles the other day, Molly used her good hand to eat Lunchables. She and another young stroke victim — 15-year-old Abby Anderson, of Olathe — sat quietly, texting on their smartphones. A minute later, they were interlocking their good arms and posting pictures of themselves to Facebook. Molly was making funny faces, making Abby laugh hysterically. They seemed too young to be worried.
Like normal
Molly and her friends were having lunch outside of Baldwin High School during finals week last month. They ate, joked around, took pictures with their phones. Molly's left wrist was covered with plastic bands, made by her peers to show their support. She lifted her arm to show her favorite one. In black and pink, it read, "Friends Lift the Soul."
Molly eased her way back into school, attending two days a week for five hours a day to start. Over the summer, she will try to make up some of the work she missed. The goal is to start going again full time in the fall.
"Our staff has done a nice job of integrating her," said Principal Rob McKim. "We're willing to do whatever we can — all the staff and all the students — to help her in the recovery process."
Molly has been working her way back into the life of a teenager as well, going to restaurants with friends, graduation parties and softball games. And she still has the same sense of humor she did before her stroke: She loves to tease and goof around; in place of speaking, she often raises her eyebrows as if to say, "You've got to be kidding me!"
But the realities of her condition are always present. At lunch, her friends started talking about their early-summer plans; they planned to go to the beach later in the week. Molly wouldn't be able to make it. She had therapy.
The road home
In the occupational therapy room at the Rehabilitation Institute, Molly sat down on a mat. The room was chilly, so a therapist brought her a bright-orange jacket to wear. With other patients doing exercises nearby — walking on a moving platform, playing catch — a therapist stretched Molly's arm behind her, pulling her elbow backward. She mouthed the word, "Ahhh!"
The therapist then brought out a puzzle, putting it on a table in front of Molly, who started trying to make sense of the scramble of cardboard pieces.
It was an apt metaphor for what the teen has been going through the past six months: her brain a puzzle she had been working on for 16 years that, all of a sudden, got knocked over, the parts spilling all over the floor.