Valentine reflects on Shrine Bowl, looks ahead to K-State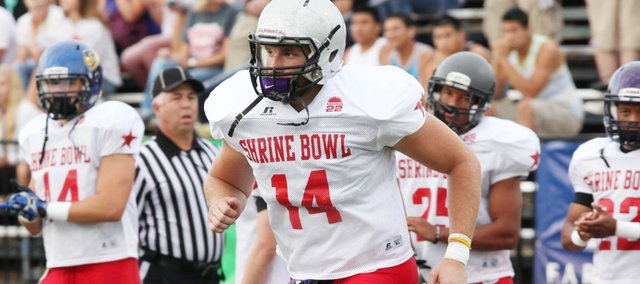 Dayton Valentine didn't get to play defense in Saturday's Kansas Shrine Bowl, but he didn't get shorted on playing time.
The 2012 all-state tight end and defensive end for the Baldwin Bulldogs started at tight end and played every offensive down for the East team Saturday. The game, played this year at Washburn University, matches East and West teams filled with the state's best May graduates.
"I played every snap on offense," he said. "I was the only tight end on the team. I was kind of hoping to play defense one last time, because in high school I played both. But I played every down on offense so it was fair. It's not like there weren't other quality guys out there."
He pulled in a two passes for 30 yards for the winning East team, despite the offense struggling for lack of coordination, Valentine said. Both catches came in the second half and the second helped set up the winning score just minutes later.
Valentine, who signed a letter of intent in February to play football at Kansas State University and moved in early June to Manhattan, said he knew the game's Most Valuable Player, Trent Tanking of Holton, well. Tanking recorded 16 tackles from his linebacker position for the East.
"He's going to K-State, too," Valentine said. "He's actually my roommate. We rode to the game together. A bunch of us small-town Kansas guys decided to room together.
"I think he was pretty excited after the game."
Although execution in the Shrine Bowl wasn't too sharp with the limited number of practices allowed, the physical level of competition was noticeably better than high school, Valentine said.
"In high school, if you played a team with one or two guys going on to play college ball, they were pretty good," he said. "There wasn't the team chemistry because we'd only been together eight practices, but there were a lot of big, strong, fast guys you had to block instead of one or two or three."
It felt good to get back on the field for his last high school football game, Valentine said. But the best part of the experience was developing friendships with his teammates and taking part in the activities with children in Shriners Hospitals.
"The best part was spending a week with guys you are forming a team with, making friends and being part of something bigger than yourself," he said.

The Shrine Bowl was just one part of Valentine's football summer. He has been involved in workouts with other K-State football players since moving June 2 to Manhattan. The daily regime starts with a team run at 6 a.m., followed by a throw class, a 90-minute weight-lifting workout and a practice.
In addition to the daily football commitment of four to five hours, Valentine took two classes. The dance and leadership classes weren't tough, but combined with the college credit and advanced placement classes he took at Baldwin High School, he will start school in the fall having already earned 24 hours of college credit, he said.
Right now, he doesn't know how many hours he will take in the fall semester. The academic progress, or lack of it, of K-State's other tight end commitments will determine Valentine's fall semester fate.
Valentine signed a letter of intent in February to attend K-State as a grayshirt. The gray shirt program, which K-State coach Bill Snyder has used to build his defending Big 12 championship program, gives a player an extra year to mature and build size and strength before officially joining the team in the spring semester of his freshman year.
Grayshirts don't get scholarships their first semesters and aren't allowed to practice with the team, although they do work out together. Finally, grayshirts must take fewer than 12 hours while scholarship players must be enrolled in at least 12.
"Right now, I'm still a grayshirt," he said. "But there is a chance it will be pulled and I'll be on regular scholarship. I'd probably still redshirt, but everything would be paid for and I'd get to practice with the team.
"It'll be determined by whether other guys are eligible or not. I'll know for sure the first day of school, so I could get a call any day."
Valentine will also start the fall not knowing his college major.
"I have time to figure that out," he said. "I'll be there at least five years and be in general ed two years. I have a little time to decide."