No mystery behind theme of Lumberyard Arts Center's summer fundraiser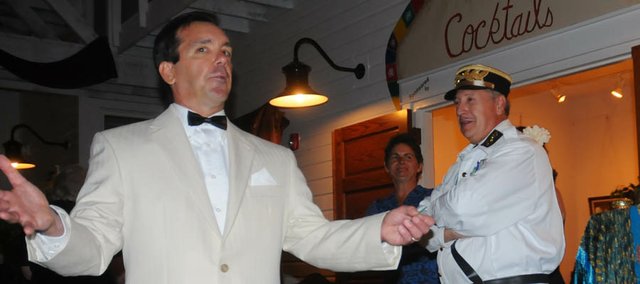 There's no mystery why the Lumberyard Arts Center board decided to have another movie-themed evening for its annual summer fundraiser, this time focusing on the films of the master of suspense.
The event builds on the success of last year's summer fundraiser, when the LAC had a movie-themed evening around the classic "Casablanca." The idea lent itself to a casino and interesting food, with those attending adding to the fun by dressing as characters in the movie. This year, the board decided to mine the 1950s movies of Alfred Hitchcock.
"The Night with Hitchcock" fundraiser will be from 7 to 10 p.m. Saturday at the Lumberyard, 718 High St. A ticket of $75 for individual or $125 per couple buys a meal, two drinks per person, casino chips and a chance to win one of four gift baskets, said LAC board member Samantha Cheek.
"People were very excited about it last year and seemed to have a good time," Cheek said. "We tossed around several ideas for this year, but hit on Hitchcock because he did so many movies that there is so much to pull from."
The group is focusing on 1950s because that was Hitchcock's most productive decade, with such classics as "Rear Window," "Stranger on a Train," "North by Northwest," "Vertigo" and "To Catch a Thief," Cheek said. Once again, those attending are encouraged to dress as characters from one of the movies, she said.
Former Baker University food service director Tanya Sieber will again cater the event, offering English-themed food in honor of Hitchcock's homeland.
"We're so lucky to have her," Cheek said. "She has such wonderful ideas. She'll have bangers and mash (sausage and potatoes), her version of fish and chips with salmon and chips of her own making."
There will also be a vegetarian buffet so that "something will be available for all," Cheek said. Beer and wine will be available, as well as such mixed drinks as Dial M for Martini and bloody murder, she said.
Blackjack and roulette will be offered at the casino run by Fun Services of Kansas City and will be purely for entertainment with nothing of value exchanged, Cheek said. Table operators will teach players unfamiliar with the rules how to play the games without the pressure of real casinos, she said.
Ticket sales have been going well with more than half of the LAC board's lofty goal of 125 already sold as of Monday, Cheek said. Money raised at the event will be used to pay the LAC's operating costs and to provide programs for the community, she said.
Tickets can be purchased by calling 785-594-9960.