Baldwin City Community Theatre continuing cabaret tradition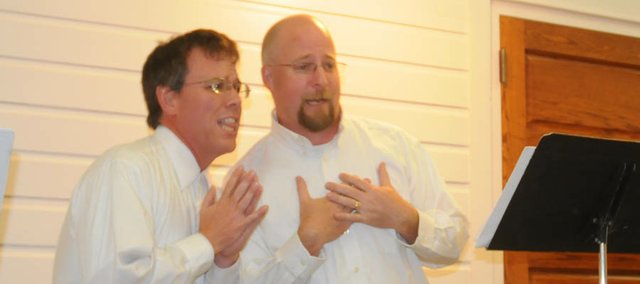 Baldwin City Community Theatre will continue a musical tradition with two weekend performances of its annual summer cabaret.
Matt Keller, BCCT treasurer, said 11 entertainers will sing 33 movie and Broadway tunes during two-hour performances Friday and Saturday. They will be accompanied by musical director Mary Baker on keyboard and percussionist Valance Penn.
The cabaret will be at 8 p.m. Friday and Saturday at The Lodge, 502 Ames St. Tickets are $15 at the door.
The troupe includes Keller's fellow BCCT regulars Doug Cheek, Joe Bathke and Shelly Todd, but they will be joined by a number of entertainers from Lawrence and Ottawa. Also singing will be Brenda Cabrera, who is returning to Baldwin City from her current home in St. Louis, Mo., to be part of the cabaret.
Baker is a mainstay of the cabaret, having introduced the event in 2001 with Jan Cooper as a fundraiser. Baker continued to privately produce the show through 2010, when the BCCT board decided to take over its production and asked Baker to direct it.
"She always does a great job of picking numbers that are a fit for performers," Keller said. "It's a nice evening of comedy numbers but also sentimental songs.
"There's numbers from 'Full Monty,' 'Oklahoma,' 'Hairspray,' 'Little Shop of Horrors,' and 'Pump Boys and Dinettes.' There are a lot of old standards, but there are a few from newer shows like 'Spamalot' and 'Mama Mia.' "
The event makes a little money for BCCT, but the cabaret is offered as an enjoyable evening to the community rather than a fundraiser, Keller said.
"It's just a way of getting people involved with theater and offer good entertainment to the community," he said.