4-H members enter creations into Douglas County Fair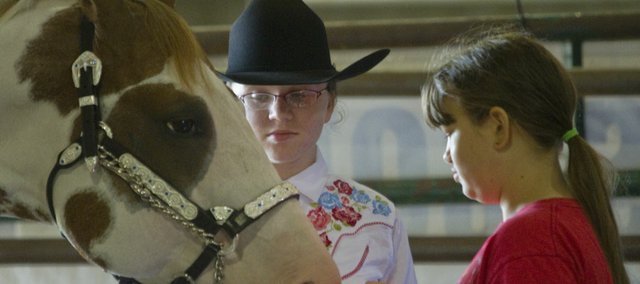 Karen Blakeslee gently cut the loaf of zucchini bread in half. She picked up and examined each half, looking at how well the ingredients were blended and whether the zucchini was peeled. She made note of the weight — fairly light, meaning it was well-baked — and commented on the smell of cinnamon.
She set one of the halves on the white tablecloth and cut out a sliver. She tore off an even smaller piece from that, and quickly chewed it up.
"Very good flavor," Blakeslee said. "That's really nice."
Before the consultation was over, Blakeslee, a judge in the food preparation category at the Douglas County Fair, lent some advice to Nikki-Lee Aguilar, a member of the Clinton-Eagles 4-H club who had stayed up late into the night Sunday trying to perfect the bread.
Blakeslee told the 15-year-old to watch how much flour she was coating the pan with before pouring in the batter. She also recommended using a thermometer to test the bread's doneness. Then, Blakeslee awarded Aguilar a blue ribbon.
Margaret Kalb, fair secretary, estimated that about 7,000 entries, including livestock, were taken to the fairgrounds Monday. Food preparation and preservation, photography, visual arts, heritage arts and geology were some of the categories judged from 2 p.m. to 7 p.m.
Blakeslee, who earned a food science degree from Kansas State, sat at a table in Building 21 Monday, hand sanitizer and paper towels on hand. She has judged food preparation at the Douglas County Fair for 10 years, and this time she was consulting with 15-to 19-year-olds.
"I want to help them learn something," Blakeslee said. "I want them to make a good product, and if they have mistakes, I can tell them how to make it better."
On the other side of the building, 12-year-old Morgan Leslie, of the Kanwaka 4-H club, waited in line with her older sister, Kyleigh. They were both holding on to cupcakes and brownies, which they had just spent the last four hours preparing.
Morgan entered her porcupine cupcakes and mint chocolate chip brownies, which were placed on paper plates and inserted into plastic bags to ensure they wouldn't suffer in the rain.
"I really love brownies, and these are just really good," Morgan said. "And I love animals, so the porcupine cupcakes are really cute."
The sisters said they were mentored in baking by their mother, who used to sell baked goods. Kyleigh looked at each of her batches in turn — rose cupcakes and apple cupcakes — and held out the former.
"I feel strong about this one," she said.
One building over, Claire Mullen, an 8-year-old in the Jayhawk 4-H club, waited to enter a creation of a different kind.
Mullen has been learning embroidery from her mother and grandmother for the past two years. On Monday, she presented a pillow embroidered with horses to a judge in the heritage arts category and explained her method.
"I used the back stitch on the body and tail and mane," Mullen said. "For the eyes, I used a French knot."
After pulling on her glasses to take a closer look at the details, the judge awarded Mullen a purple ribbon, the top prize she could receive.