Community garden provides outlet for Baldwin City's land deprived green thumbs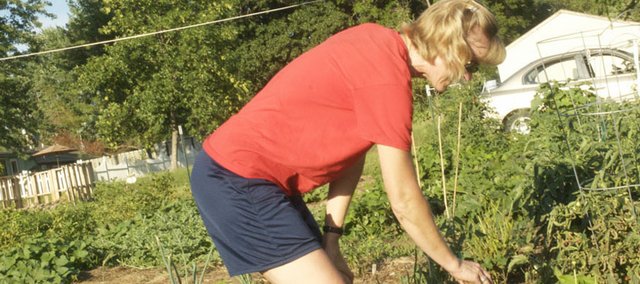 Lisa Howard is at war.
The enemy is squash bugs. The battlefield is the squash plants growing at her plot at the Baldwin City Community Garden. Lifting the limp limbs of one plant, Howard acknowledged she's taken casualties. But she's not ready to concede the war against the pests, which she said she won a year ago.
"I had the last plants standing last fall," she said. "That's because I tried everything."
On other fronts, Howard is doing well. She picked her first cucumber of the season this week, has rows of healthy onions and her tomatoes, while slower to ripen than those in a neighboring plot, are plentiful.
"I want abundance," she said. "I want to make my spaghetti sauce and my salsa."
For Howard, there would be no summer bounty without the community garden. Her backyard is too small and shaded to grow vegetables, she said.
The community garden was started three years ago when Tammi Zibell proposed it to her fellow Baldwin City Business and Professional Women members, who were in search of a community service project. BPW member Bonnie Plumberg took the proposal to the Baldwin City Council, on which she was then a member, and the city made available space for the garden on Third Street, immediately north of Oakwood Cemetery, and a water hydrant was installed.
Zibell, coordinator of the community garden with her husband, Joey Zibell, said two sizes of plots are available. Ten-foot-by-50-foot plots are $15 a season. Howard has the larger 20-foot-by-50-foot plot, which is $25. There is a $5 deposit for a key to unlock the water hydrant, which can carry over to future years or be refunded at the end of the season if the key is turned in, she said.
Plot owners also have access to a shed with basic gardening tools and compost piles of clippings collected from mowing the large lot that surrounds the garden, Zibell said.
Another benefit of the garden is the annual tilling, Howard said.
Zibell said the community garden has 14 plots this year tended by individual gardeners or families, which is one less than 2012. But that doesn't tell the whole story.

"We had one family who did three larger size plots, but it didn't work out for them," she said. "Those are now communal gardens. So we have 17 plots, total."
The communal garden is in a field next to a timbered creek. No fences are allowed as a defense again deer, raccoons and other vegetable hungry critters, but Zibell said the biggest pest seemed to be the squash bugs Howard was battling.
Plots are available for those wanting to put in a fall garden, Zibell said. Those interested should call her at 785-594-3579.