Young actors learn stage skills at Lumberyard theater camp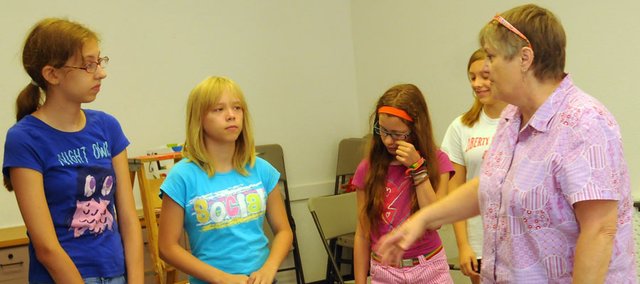 While introducing herself Monday during a rehearsal break of "Alice in Wonderland," 7-year-old Anna Leach told a story on her 12-year-old sister, Emma Leach.
"Emma didn't want to come," the younger sister said. "When mom told us she'd signed us up, she said she didn't want to do it."
Emma Leach said she has since learned her mother knew best. After a week, she's enthusiastic about the two-week play makers summer theater camp at the Lumberyard Arts Center.
"I'm glad I came," she said. "I'm making friends. It's fun."
That's the No. 1 goal of the camp that started July 15 and will continue through Friday, said instructor Jennifer Glenn.
"The important thing is we're all here to have a good time," she said. "Of course, the hope is they get used to being in a play and working together to make something happen. It's great for building self confidence."
Glenn said she led a drama class at the arts center last year, but this is her first camp with a script and she's happy with the progress the young actors are making. The youngsters will wrap up the two-week camp with a performance Friday of "Alice in Wonderland" for their parents.
"It's only been a week and they have almost all the lines memorized," she said. "It's great because the lines from 'Alice in Wonderland' can be a little more confusing."
She's been a costume designer, actor, director and teacher who has "taught about every place you can think of," Glenn said. She instructs art classes at the Lumberyard and taught at the Lawrence Arts Center and Lawrence Community Theatre. She's putting many of those skills to work in the camp, giving her young charges tips on acting, stage presence and pacing as they rehearse and will give them an introduction in set design and wardrobe before the final presentation.
"We'll decorate a couple of flats," Glenn said. "We'll make base costumes for the play, and I'm bringing them hats. I have a large collection of hats."
Ornsen Hibberts said he was in the class because of Glenn.
"My mom found the class and signed me up when she saw Jennifer Glenn was teaching," he said. "She wanted me to do it."
Like the older Leach, Hibberts is happy with his mother's decision and is enjoying playing both the March Hare and the Caterpillar in the play.
"I couldn't honestly tell you which one I enjoy more," he said. "It's just a really fun play. It's a really fun camp, overall."
Unlike the other nine campers, Ella Mozier, who as the role of Alice, doesn't have to memorize lines for two characters for the performance. She also differs from many of the other young campers in finding out about the camp on her own.
"In a small town like Baldwin, you don't have a chance to be in many plays," she said. "This was a chance to do that and have fun.
"I'm learning a lot about teamwork and helping with everything that goes into putting on a play."