Maple Leaf Triathlon returns Saturday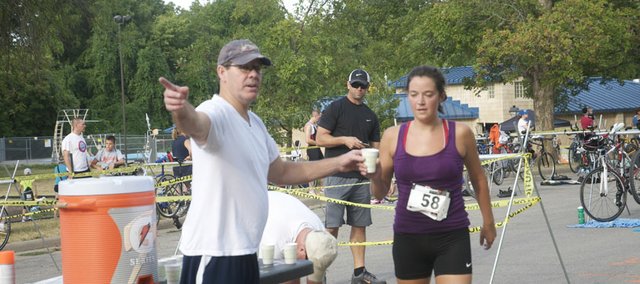 Last year's successful Baldwin City Recreation Commission Maple Leaf Triathlon will return Saturday with a few tweaks for its second year.
Steve Friend, director of the Baldwin City Recreation Commission, said the number of participants would likely exceed the 100 adults and 70 youngsters who swam, biked and ran in last year's inaugural triathlon. Late registration will continue up to the start of the race, he said.
"We had 150 signed up by Monday," he said. "I took three or four calls yesterday.
"We're one of the few sprint triathlons open to kids. Our youngest (participant) last year was 3 years old. That was pushing the limit a little bit."
Many of those athletes will be from out of town, Friend said.
"That's our goal," he said. "We were tired after we were finished last year so we went downtown to eat. We saw all sorts of runners eating and walking around downtown."
The event makes use of a certified timing service and will have a professional announcer. But it still requires considerable volunteer support, Friend said. Dave Simmons is coordinating that effort and has a goal of recruiting 80 volunteers for Saturday, compared to the about 20 who worked the triathlon in its first year.
Volunteers will meet at 7 p.m. Thursday at the swimming pool to get their event T-shirts and receive assignments, Friend said. The pool will be open for the use of their families during the meeting and hot dogs will be served, he said.
"Anyone wanting to volunteer can come to the pool Thursday to sign up," Friend said.
The triathlon starts with a swim at the Baldwin City pool, transitions to a bike ride along city streets and concludes with a run through town before finishing at Liston Stadium. Children 14 years of age and younger swim 25 yards, bike .75 miles and run a half mile. Adults swim 150 yards, bike seven miles and run two miles. Teams can enter with different people entered in the three different legs of the triathlon.
A 16-to-20-year-old age group has been added to the adult competition this year, Friend said. Other tweaks include changes to the youth bicycle route to eliminate a difficult slope and to the adult running course so that competitors can enter Liston Stadium from Second Street.
In a change this year, the adult event will start at 7:30 a.m. Saturday at the pool, Friend said. Adult awards will be presented before the start of the youth even at 11 a.m.
The event finished in the black last year and the BCRC has had greater success at recruiting sponsorships this year, Friend said.
The cost to enter the event is $15 for youth, $40 for adults and $80 for teams.
Overall male and female athletes will win $100 and adult age group winner, except high school eligible athletes, will receive $25. Trophies will be given to youth age-group winners.