Eisenhower Street upgrade to get underway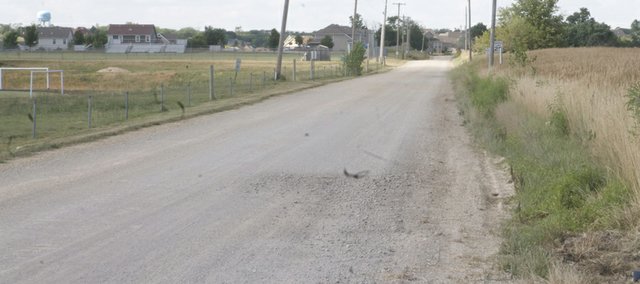 As she vacuumed a family car Friday, Janet Morgenstern said less dust will be one of the benefits of a road project set to start Monday behind her home.
Work starts Monday to pave the gravel stretch of Eisenhower Road between the Baldwin High School parking lot and Douglas County 400 Road.
"Like everything, you have a little pain with the good," she said. "I'm not looking forward to the process, but it will be nice when it's finished. It will reduce the dust and be much safer."
Keith Browning, Douglas County public works director, said the project should be finished in three weeks or before the start of the 2013-2014 school year. The section of the street to be improved will be closed for the duration of construction, he said.
The street marks the eastern limits of Baldwin City. The lane west of the centerline is in the city and the lane east of the line is in unincorporated Douglas County. The city and county are splitting the cost of the $173,000 paving project, to be done by contractor Bettis Asphalt of Topeka, Browning said. The county is acting as the lead agency and administrating the contract, he said.
"The city has agreed to take over maintenance of the street following the project," Browning said.
Work will start with the extension of a number of culverts and minor grading to address drainage issues, Browning said. The road base will then be improved with a 6-inch layer of base material before the section is sealed and paved with chip-seal, he said. Required cure periods for the base and sealing with take up much of the three-week construction schedule, he said.
When the Baldwin City Council approved the project last year, City Administrator Chris Lowe said the improvement was a transitional step until development to the east of the street would require more extensive upgrades that meet city street standards.
Browning made the same point as the work was set to start, noting the roadway would remain 22 feet wide.
"I think everyone agrees this is not the ultimate improvement for this road," he said. "When the city expands, the road will have to be reconstructed."