Sculptors to put Baldwin City history on maple leaf statue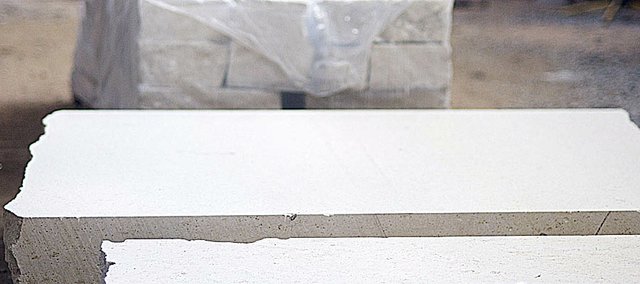 Carvers who will start work this weekend on a downtown sculpture are inviting Baldwin City residents to lend an artistic hand.
Stone carvers with the Kansas Sculptors Association will work Saturdays through September in the Lumberyard Arts Center on the statue, which will stand at Eighth and High streets, association President Don Nieto said.
Two large limestone slabs were delivered last week to the arts center for the project. One will be carved into a maple leaf with Baldwin City historical scenes worked into leaf sections and the other a triangular-shaped base for the leaf statue, Nieto said. Although there had been earlier talk of the sculptors creating a smaller work for the intersection, there will only be one statute carved for public display, Nieto said.
Sculptor Mark Sampsel has refined a model the Baldwin City Council selected from local entries for the statue's design, Nieto said. Sampsel and at least four other artists will start shaping the stone Saturday.
"Initially, Mark will be using a power saw to cut away the parts we don't need," Nieto said. "The first Saturday in October is the completion date for the big stone. Someone will be coming in every Saturday until we get it done."
The carvers will bring their own assortment of pneumatic tools and traditional hammers and chisels, he said.
There will be enough tools and work early in the process that doesn't require a fine artistic touch to allow interested Baldwin City residents to help with the project.
"It's open to anybody who wants to stop by to say 'I helped with that,'" Nieto said. "If someone shows up, I'm sure Mark will put them to work. He's a real professional and a good teacher.
"It's not a hard stone. It's easy to remove. Some stones that are hard require different tools, but this one is easy."
The sculptors will start work at 8:30 a.m. Saturdays, take an hour lunch break at noon and finish for the day a 5 p.m., Nieto said.
It will be hot. The back section of the arts center where the work will be done is not air conditioned, but Nieto said the sculptors had worked on similar projects in the heat in Emporia, St. Marys and Manhattan.
Teaching symposium scheduled for September
Also stacked in the art center's back room are pallets of smaller limestone blocks. Nieto said the blocks are for a symposium the Kansas Sculptors Association will have Sept. 28-29 at the Lumberyard.
For a $5 fee, novice sculptors will be given blocks and receive instruction in carving from association members, who will be carving works of their own, Nieto said.
Lumberyard Arts Center board member Sandy Cardens said the sculptors' visits have been a long time in coming.
"Christy Carlisle and I approached the Kansas Sculptors Association about doing something in Baldwin City about 14 or 15 years ago when we were on the old arts council, but they declined," she said. "After we opened this facility (the Lumberyard), we had a show for the Kansas Sculptors Association. Then, they approached us."
Cardens credited the Baldwin City Council for moving the association's request forward. Last year, the council approved $10,000 for the project, which was used to purchase the stones for the downtown statue and symposium and will pay for the sculptors' meals while they are in Baldwin City.
"The city has been so cooperative and really took the lead on this," she said. "The Lumberyard is just the facilitator, bringing the two parties together."