Sunrise runs prepares Bulldog cross country team for season, build team spirit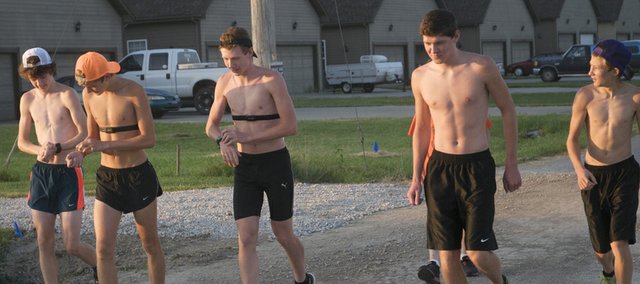 They started arriving one by one before the sun had topped the trees on the eastern horizon, the youngest on foot or bicycles and older teammates in cars or trucks.
Daelynn Anderson, the earliest to arrive, sat down on a curb near the exit of the Baldwin High School parking lot, rubbing sleep from her eyes. Anderson has not yet spent a minute behind a high school desk, but the freshman-to-be is already a member of the Baldwin High School cross country team, and that means showing up for the voluntary 6:30 a.m. runs.
"I like it, but I'd love to sleep in," she said Tuesday.
Anderson was there less than a minute before she was joined by seniors Leyena Watson and Libby Verhaeghe. The morning runs were about building team spirit, preparing for the season ahead and setting an example for young teammates like Anderson, Watson said.
That final factor was a tradition with the team and one that now falls to them as seniors, Watson and Verhaeghe said.
There's another tradition the boys and girls cross country teams — winning. Bulldog boys teams have won 10 4A state championships and the girls seven. It's that tradition that gets the team up for the early morning runs.
"We were pretty good last year, but we would really like to win a state title this year," said junior Joe Pierce.
The girls team has equally high aspirations, said senior Ashton Temple. The girls won five-straight 4A titles before finishing third last fall.
"Our goal is to qualify for state," Temple said. "We want to finish high and hopefully win it."
Temple added her personal goal is not to get injured as she has the last few years.
The temperature Tuesday morning when the runners left the high school parking lot was about 70 degrees, but a near cloudless July sky suggested that wouldn't last.
"I think it's going to get hot today," Temple said.
With senior Ethan Hartzell, Pierce is one of the veteran leaders of the boys team, which features a strong and deep returning group of sophomores.
One of those, Phillip Carroll, was the first of the boys team runners to arrive Tuesday, although he was tempted to sleep in, as he is every day. Team members could do the 45-minute runs on their own, but there are benefits to running with teammates, he said.
"You get to know everybody," Carroll said. "You get to see what everybody's speed is."
Pierce reinforced Watson and Verhaeghe's comments. The early morning runs were all about the team.
"It boost team unity," he said. "It's a lot easier to run as a team than by yourself."