Lawrence artist's show to open at Friday's Art Walk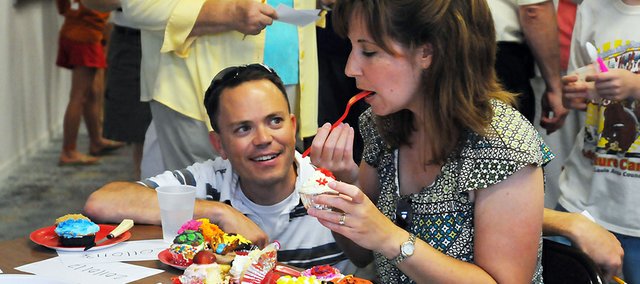 Those viewing the next show at the Lumberyard Arts Center will find the paintings looking back.
The show of 21 works by Lawrence artist Patrick Schlotterback opens with a reception from 7 to 9 p.m. Friday at the Lumberyard Arts Center in conjunction with the summer's second Art Walk. The show will run through Aug. 10.
"It will be mostly portraits," Schlotterback said. "There may be one or two landscapes and a still life, but all but three will be portraits."
Schlotterback said he was drawn to portraits because of their emotional power.
"I know a lot of people paint landscapes or barns, but to me that doesn't have the same emotion," he said. "When you look at a portrait, and it's painted right, it automatically has emotion."
A middle school art teacher in Ottawa, Schlotterback said he has been serious about improving the quality of his work for the past 10 years.
"I paint every day if I can," Schlotterback said. "I always try to get a few brush strokes down."
Lumberyard Arts Center gallery director Sandy Cardens said Schlotterback's work reminds her of one of her favorite artists, John Singer Sargent.
"It reminded me of that style," she said. "It's a little loose. It's not realism, but it's really well done."
Schlotterback said Sargent, the go-to portraitist of the late 19th Century, was one of his two principal influences, along with Norman Rockwell.
"I studied Rockwell a lot," he said. "I borrowed his techniques. I use his pallet. But I really like Sargent. His paint application is a little looser."
Two contemporary artists, Jeremy Lipking and Richard Schmid, are also influences, Schlotterback said.
"They carry on the tradition of Sargent," he said. "I like the loose approach Schmid has with his work."
Schlotterback said the use of loose brush strokes and varied application of paint thickness helps him capture the personality of his subjects.
The Lumberyard show will be Schlotterback's first solo show, although his work has been in various art contests.
"It will be fun," he said. "I'm anxious to see how I'm going to arrange them all."
The Art Walk again will feature booths with vendors offering arts and crafts and will have live entertainment, Cardens said.
The cupcake contest also will return to the July Art Walk, Cardens said. Those attending are encouraged to bring a dozen cupcakes for the contest, which will be judged for taste and artistic quality.