Flour power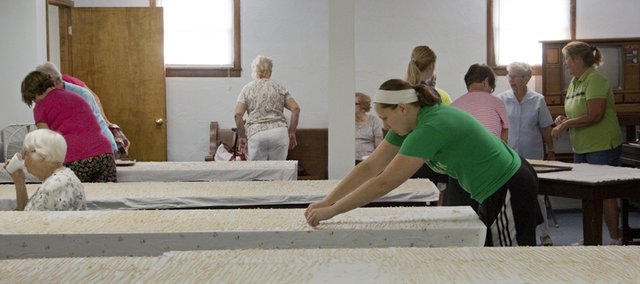 Sitting at a table Tuesday in the basement of the Vinland United Methodist Church, Nora Cleland carefully placed freshly made noodles on a table to dry.
Nearby, others were engaged in the same task, as rows of drying noodles progressively covered the tables filling the basement's meeting room. The adjoining kitchen was filled with women mixing dough, running it through presses and cutting flattened sections into noodles.
The noodle-making effort was one step in the process of preparing the chicken noodle dinners the Vinland Family Consumer Education Unit would serve at next month's Vinland Fair. The chicken noodle dinners are a Vinland Fair tradition that traces back five decades, to when local Kansas State Extension education units were called homemakers' units, Cleland said.
"The old Vinland Homemakers started making creamed chicken in the 1960s they poured over mashed potatoes," she said. "People really liked it, so they started making more. Eventually, they changed to chicken noodle dinners. They were even more popular.
"At first, all the noodles were made at home. But we moved it here."
Cleland couldn't remember when the noodle-making process was moved to the church, nor could other veterans of the annual process, such as Lola Ford or Talitha Bailey. They did know it had been long ago enough for the F.C.E. to develop a factory-like efficiency to the process that produces noodles from 55 pounds of flour and 12 dozen eggs. The noodles will be cooked with vegetables and 120 pounds of chicken on the eve of the fair.
"There's quite a process to this," Cleland said. "Someone beats the eggs. Someone mixes the flour, and then they roll the dough out and cut it into noodles."
The day was about making noodles the way your grandmother did, Cleland said. There were quite a few grandmothers among the 25 people sharing in the collective effort Tuesday, including Cleland and Ford. But Cleland said the old hands welcome the presence of younger volunteers so the tradition can continue.
"People don't make homemade noodles anymore, but it's really not that difficult," she said. "We have to work in some young people. Our numbers are starting to fall."
One young volunteer who helped Tuesday was Katelyn Johnson, who will start her senior year at Baldwin High School next month.
"My mother makes homemade chicken noodles at home, but this is my first time," she said. "I usually make pies for the fair."