Baldwin City Council July 15 agenda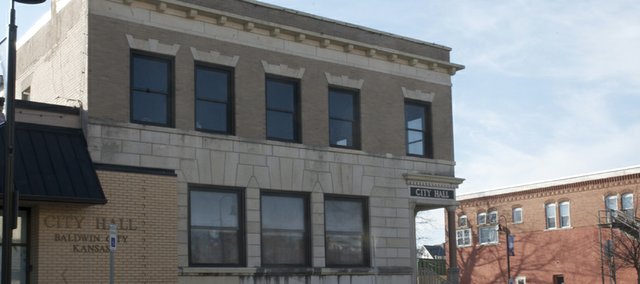 I. Call to Order: Mayor Marilyn Pearse
II. Consent Agenda: (All matters listed on the Consent Agenda are to be considered under one motion and will be enacted by one motion.

There is to be no separate discussion on any Consent Agenda Item. If discussion is desired by an elected official of the City on any Consent
Agenda item, then that item will be removed from the Consent Agenda and considered separately).
A. Consider the draft minutes of the July 1, 2013, Regular Meeting.
B. Consider Appropriation Ordinance No. 2013-7B: claims against the City for goods provided and
services rendered.
C. Consider Appointing Stephen Bauer (1315 Maple Leaf Ct.) to the Baldwin City Planning Commission.
III. Committee/Commission Reports
A. Budget Committee (Kathy Gerstner)
B. Community Development Committee (Shane Starkey)
IV. Special Reports or Presentations
V. Unfinished Business

A. Consider Ordinance 1296 for a Conditional Use Permit for Rainbow Preschool to Operate at 115
Sixth Street (Tina Rakes – 2nd Reading)
VI. New Business
A. Consider Resolution 2013-12 establishing a fund balance and reserve policy for city utilities

(Chris Lowe)
B. Consider Ordinance 1297 revising Section 3 of Ordinance No. 1259.(Chief Neis – 1st Reading)

VII. Public Comments and Questions
VIII. Discussion Items from Council Members or Staff (items not for action at this time)
IX. Schedule & Announcements
X. Executive Session

XI. Adjourn