Partners plan to bring world to Baldwin City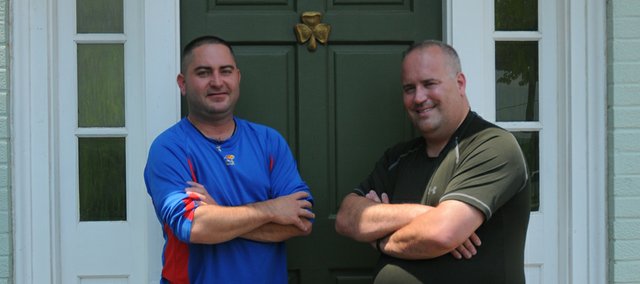 A photograph of the sun rising behind high rises in Bangkok, Thailand, greets visitors to Michael Bennett and Brian Pitman's downtown Baldwin City offices.
Sunrises often are associated with new beginnings and the picture Bennett snapped in April from a Bangkok hotel balcony with a smart phone was just such a moment for the two men.
"It was the moment we both knew we couldn't go back," Pitman said. "We couldn't go back to our old jobs and do the same thing for the rest of our lives."
For Pitman, the job left behind was one as vice president of marketing for an international trade association. Bennett was the clinical pharmacist and residency program director at Lawrence Memorial Hospital, a position he held since 2003. With the sunrise agreement, Pitman is now president of marketing and Bennett director of operations of their Sunflower Development Solutions.
The April trip was Bennett's fourth to Bangkok while working at LMH. All were made to share his knowledge of clinical pharmacy and pharmacy residency programs with Thai professionals eager to upgrade the profession's development standards in the Southeast Asian country's hospitals.
Bennett, a Baldwin City resident of 14 years and the 2013 Pharmacist of the Year for the Kansas Council of Health-System Pharmacists, said he first got involved with Thailand through a Japanese friend, who introduced him to his counterpart at a Bangkok hospital. He made three trips to the country on his own expense to help train and educate Thai pharmacists in America residency methods and procedures, while training other young pharmacists through internships at LMH.
"They wanted to bring their standards up to what hospitals in the United States have," Bennett said. "They were about 20 years behind what we have here. They've made tremendous strides."
Through Sunflower Development Solutions, Bennett and Pitman are broadening the reach of the professional training through the use of the Internet, webinars, training videos, social media and other tools of modern communication.
It was a goal his boss at LMH understood when Bennett told him of his career change.
"He said, 'I'm not going to let you not do this. You can teach 15 people a day here, or you can teach hundreds of people a day who can teach 15 people a day,'" Bennett said. "It's really about helping people and having an impact."
As should be expected from two men who say they want to change the world, the partners' ambitions go beyond the Thai pharmaceutical trainings. They plan to replicate that effort in other countries and will leave Friday for China, where they will present workshops on a new program to improve clinical pharmacy in Guangzhou, Shanghai and Beijing.
They are also making use of the same tools to offer training in accounting and other areas. For the domestic market, they produced content meant to help businesses navigating government regulations, such as the Affordable Care Act's implications to the pharmaceutical industry. From a studio in there offices, they recently produced a series of leadership videos by Rich Drinon for the international market.
In addition, the company offers event and conference management, making use of the same new media tools. In June, the partners traveled to Tampere, Finland, for an international gathering of the glazing industry called Glass Performance Days. There, they filmed multiple seminars that are now available online.
It was an interesting experience where they sat at the table at a luncheon with businessmen managing companies with a total worth of $15 billion.
"And they were asking me what to do," Bennett said.
Their young company is doing well. Pitman said he and Bennett agreed at its founding that their income should match the salaries they were giving up within the first year. Four months later, they are confident they will top those figures, Pitman said.
They will soon add their first employee and apparently will have their pick of one of several heavyweights in the pharmaceutical field who have expressed interest in joining them, Bennett said.
While enjoying early success, Bennett and Pitman are already looking for ways to give back. One such idea came to them while enjoying the same balcony view that provided them with their sunrise epiphany. The Bangkok hotel room also looked on to an empty lot next to Thailand's largest and most modern hospital. It occurred to the two men it would be the ideal place for a hospice, and they have started the process of buying the property for that purpose.
"It's going to be called Tranquility Oasis," Bennett said. "We'll put in offices for doing business in Thailand, but it will really be a place where those at the end of life can be treated with dignity. They and their families will be surrounded by a much more peaceful and friendlier place than a hospital."
In Baldwin City, they have assisted Kim Springer of the Baldwin City Police Department in developing a presentation on Smart 911.
Another of the partners' goals is to bring the world to Baldwin City, while sharing the community with their clients. The company will attract foreign interns and international clients to the community in the future, Bennett and Pitman said. They plan to showcase local products and artists to those visitors and through their online presence.
That effort was evident Saturday at the first of Sunflower Development Solution's planned monthly wine and cheese open houses. It featured wine from Davenport Winery near Eudora and the work of Manhattan photographer Scott Bean.
"We had the idea when we first committed to this to promote local stuff as well," said Pitman, who plans to move soon to Baldwin City. "We certainly support Baldwin City.
"People ask us all the time: 'Why Baldwin City?' Michael and I feel comfortable on the streets of Beijing, Bangkok or Helsinki, but at the end of the day, coming back to Baldwin City feels right."