Five questions: It's fair time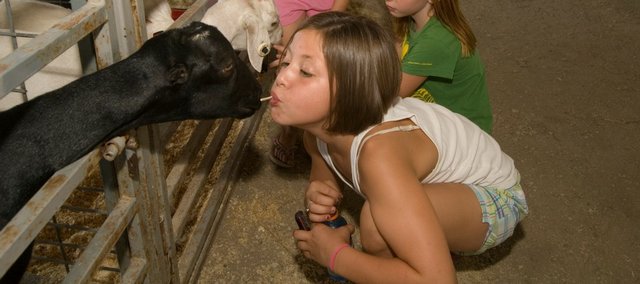 It's almost fair season in the area. This week's five questions comes from information posted on the websites of the Douglas, Johnson, Leavenworth and Wyandotte County fairs and the Vinland Fair.
Q: When do the various fairs take place in our area?
A: The Wyandotte County Fair is July 23-27, Douglas County Fair July 26-Aug. 3, Leavenworth County Fair July 30-Aug. 3, Johnson County Fair Aug. 6-10 and the Vinland Fair Aug. 8-10.
Q: Where do the fairs take place?
A: The Wyandotte County Fairgrounds are at 13700 Polfer Road, Kansas City, Kan. The grounds are just east of Kansas Highway 7 in western Wyandotte County. Douglas County Fairgrounds are at 111 E. 11th St., Lawrence, Leavenworth County Fairgrounds are north of Kansas Highway 16 in Tonganoxie and Johnson County Fairgrounds at 136 E. Washington St., Gardner. The Vinland Fair is between Lawrence and Baldwin City off Route 1055 in Douglas County.
Q: How long have the fairs been in existence?
A: The Douglas County Fair is the oldest area fair, starting in 1863. The Wyandotte County Fair began in 1858, while the Vinland Fair started in 1904. The Leavenworth County Fair traces its roots to 1926. Information about the origin of the Johnson County Fair was not available.
Q: What can I find at the various fairs?
A: Food, craft and livestock exhibits are a mainstay of the local fairs. They also have musical entertainment, as well as various food vendors. Some fairs also have carnivals.
Q: Where can I go for more information about the various fairs?
A: Douglas County Fair, dgcountyfair.com; Johnson County Fair, jocokansasfair.com; Leavenworth County Fair, leavenworthcountyfair.com; Vinland Fair, vinlandfair.blogspot.com; and Wyandotte County Fair, wycofair.com.