Baldwin High School grad riding high at Oklahoma State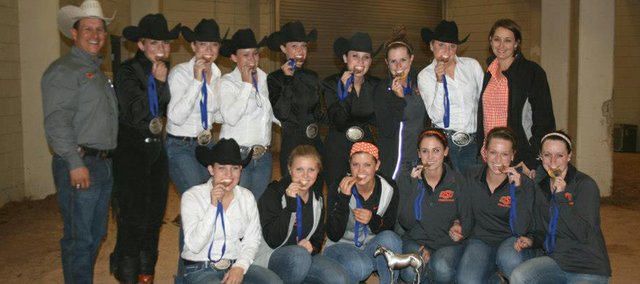 Paris Nottingham is having a busman's holiday during her summer vacation from Oklahoma State University.
The 2012 Baldwin High School graduate is home for the summer at the rural Baldwin City, home of her parents, David and Jeanne Nottingham. As usual, she is taking her horse to shows throughout the Midwest, just as she did throughout her childhood, while planning to return next month for her sophomore year at Oklahoma State, where she is a member of the school's Big 12 champion equestrian team.
Oklahoma State is one of four Big 12 schools with an equestrian team with Kansas State, Baylor and Texas Christian universities, Nottingham said. To the surprise of some, the same privileges and demands are made of athletes in the program as those in other sports, she said.
"Obviously, the equestrian team doesn't get the publicity, but we get free apparel, free tutoring and spend the required hours in the academic enhancement center," she said.
Being part of the team requires a large time commitment, Nottingham said. There are 6 a.m. weight training sessions three times a week, daily practices, travel in both the fall and spring seasons and extra duties like sprucing up the Oklahoma State arena before the team was the host of the Big 12 championship, she said.
"We all work very hard," Nottingham said. "People ask why I didn't go through rush. We (team members) are like our own sorority. When we travel, we're together 24/7. Road trips are like a big sleepover. It's a lot of fun."
College equestrian competition has two categories: English (or hunter seat) and Western. Individual riders have different specialties within those disciplines. Nottingham said her specialty was showmanship within the Western discipline. She didn't make what might be called the varsity of those team members who compete for team points in big events like the Big 12 or National Collegiate Equestrian Association championships.
"As a freshman, I came to Oklahoma State knowing they had very high level riders above me," Nottingham said. "My goal was to hone my skills and get experience."
A participant at horse shows throughout her childhood, she already knew many of her teammates.
"I knew a majority of the girls on the Western side," Nottingham said. "On the English side, I didn't know any of them, so I made a lot of friendships."
The school's Western riders were as good as Nottingham anticipated. The Oklahoma State Western riders won the Big 12 (the team also claimed the overall title) and the National Collegiate Equestrian Association championship in April (Auburn University won the overall national championship that considered English and Western results).
"On the Western side, we only lost two seniors," she said. "We feel like we're in a good position to take up where we left off."
Although Nottingham didn't compete for points that counted toward team standings in the national finals, she did ride at the event at Waco, Texas, in exhibition and demonstration events. In those, she rode before judges and was scored individually.
Oklahoma State's horses are donated to the program and those in the Western discipline are quarter horses, Nottingham said. They are usually horses who suffered an injury or had some issues in the show ring, she said.
During regular season competitions, both teams ride the home team's mounts, Nottingham said.
"When we host meets, the visiting teams use our horses, tack and saddle," she said. "All they bring is the clothes they wear.
"There's definitely a home field advantage. We ride our horses every day and know what they are good at and not so good at."
But it sometimes can be an advantage to just respond to what the horse is doing that day rather than ride with expectations of what it might do, Nottingham said.
Each team's horses are scored throughout the season with top mounts chosen for the national championships, Nottingham said. There, they are rated by judges and placed in a pool, from which they are assigned by draw to two riders in head-to-head competitions.
"They try to maintain a level playing field," she said. "Two different girls ride the same horse."
Her goal is to be among those riding for team points next year, Nottingham said. But that is balanced by her desire to put the team first.
"I'm very excited about my sophomore year," she said. "I'm hoping to be a contributor and team leader, not just in showcase. I've always wanted to be more than a winner. I want to be someone team members can depend on and say, 'Paris can do it. We believe in her.'"
Nottingham majored in biochemistry her freshman year but is looking to switch to physiology in the coming year as part of her plan to earn a degree in a science discipline before moving on to a two-year nursing program. Her ultimate career goal is to be a nurse anesthetist.
It is a goal she could realize a year earlier if she transferred from Oklahoma State, which doesn't have a nursing program.
"I'm OK with the fact I'm taking a longer route, because I realized giving up the team is not what I'm going to do," she said.