Baker summer theater camp attracts top high school talent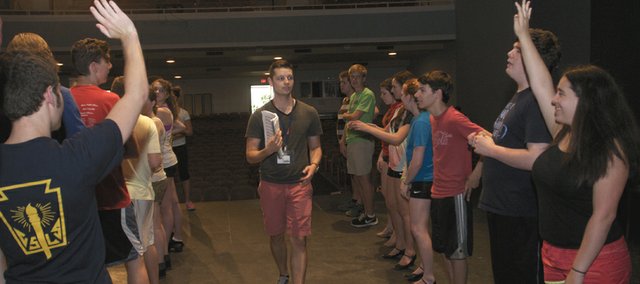 As she shared details Monday of the Broadway at Baker musical theater camp, Julie Danielson interrupted herself when young performers suddenly started singing a tune from the 1992 Broadway musical "My Favorite Year" on the stage of the school's Rice Auditorium.
"Listen," said the camp's music director and voice coach. "They learned this song this morning. They didn't even know what parts they were playing until last night when we announced the cast.
"We move very quickly and treat them very professionally."
This is the 23rd year Baker University and Music Theatre for Young People of Kansas City have collaborated on Baker at Broadway camp. The partnership started in 1991 after MTYP founder and Danielson's mother, Cary Danielson-Pandzik, relocated the theater group she founded in 1984 in Wichita to Kansas City.
The camp is a one-week crash course in musical theater. On Sunday, 38 performers from the ages of 13 to 18 arrived to learn their lines, dance steps and the songs they will perform during a presentation of "My Favorite Year" next Sunday. In preparation, they will receive instruction from Baker faculty members and MYTP's professional acting, voice and dance coaches.
The task is made easier by the quality of the campers and the fact that about two-thirds of them have been to at least one past Broadway at Baker camp, Danielson-Pandzik said.
"It's a very interesting thing," Danielson-Pandzik said. "We don't audition for the camp. There's an unknown quality, but we usually get the top theater students from 20 to 30 area schools. They are all very serious performers."
The seriousness and ambitions of the young campers is revealed in figures her daughter shared.
"Twenty alumni went on to perform on Broadway," Danielson said. "More than 100 others are living and working in New York."
That number includes this year's choreographer and dance instructor, Chris Allen, and included Danielson until her recent move back home.
Another alumna instructor, acting coach Elizabeth Griffith, is now a professional actor in Minneapolis, Minn.
"The kids," she said when asked what brought her back for Baker at Broadway. "Having the opportunity to come back and see how hungry they are for theater inspires me. I'm also happy for the chance to give back. MTYP gave me so much.
One of this year's returning campers is Radie Keller, a Baldwin High School spring graduate who plans to study kinesiology with an emphasis in physical therapy at Washburn University.
"This is my sixth show," she said. "It's really taught me how to be committed to a thing or acting and working with a group toward a goal."
The campers will perform "My Favorite Year" at 2:30 p.m. Sunday at Rice Auditorium. A second camp from July 21 through 28 will conclude with a performance of "Once on This Island," a theatrical adaptation of the fairy tale "The Little Mermaid" at 2:30 p.m. July 28.
Tickets to both performances are $8 for adults and $5 for children younger than 12 and seniors.