Wheat harvest finally gives Baldwin City area farmers something to smile about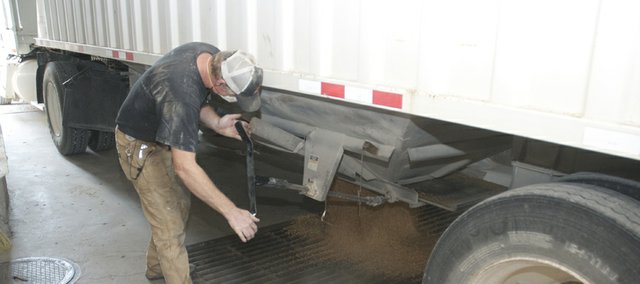 Speaking from the cab of a semi while he dumped a load of wheat Monday at the Baldwin Feed Company, Cory Martens was all smiles.
The load he brought in for his neighbor Robin Dunn was the latest in a harvest that was averaging about 60 bushels an acre, Martens said.
"I think everyone's pleased," he said.
The good mood is a contrast from that of 10 months ago, said Steve Wilson, owner of Baldwin Feed Company. The local harvest, which he estimates is 90 percent completed, has been a godsend to local farmers devastated by the drought of the past two summers.
"It's much better than average," he said, adding that it could be the best wheat crop on record.
With some hesitation, Wilson estimated yields were averaging from 65 to 70 bushels per acre. His reluctance was based on the knowledge that those talking about yields were the farmers who did well. Some farmers, through no fault of their own, will not see yields near that good.
"That doesn't make them bad farmers," he said.
Still, Wilson said it was clear that plentiful spring moisture has helped produce a bumper crop. Adding to the good spirits: This year's snows and rains have produced a good local brome hay crop, he said.
Last year, wheat in the Baldwin City area averaged from 40 to 45 bushels per acre, Wilson said. That was about a normal yield as the winter wheat crop benefitted from what little rain the area saw last year, he said.
The failure of last year's corn crop from the drought could have helped some wheat yields, Wilson said. It appears some wheat acreage benefited from carryover fertilizers put on cornfields that went unused by failed crops, he said.
But Wilson said "nobody won the lottery" from the abundant wheat harvest. The fall harvest is much more important to area farmers and the local corn crop was wiped out last year and suffered badly in 2011.
The importance of the fall harvest is why local farmers are wary even as they celebrate a successful wheat harvest and welcome strong wheat prices of $6.50 a bushel, Wilson said. Corn that looks good in early July will disappoint if it doesn't get rain while tasselling in the coming weeks.
"The big story is the fall crops," he said. "We take in six to seven times more bushels in the fall than we do in wheat. Right now, we need rain."