Drought claims largest tree in Oakwood Cemetery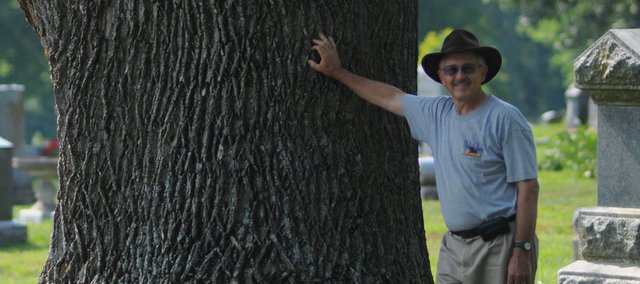 Under the limbs of a yellow poplar in Baldwin City's Oakwood Cemetery is a small headstone so weathered it does not reveal the name of whose grave it marks.
The pitted stone probably dates from soon after the cemetery was founded in 1869. The yellow poplar, also know as the tulip tree because of its spring blooms, shaded the stone from the afternoon summer sun for most, or perhaps all, of that time. But it won't this year.
Although it still has a few scattered small leaves on its lower branches, the tree is doomed, said Roger Boyd, president of the Baldwin City Tree Board. The recent two-year drought and the heat of the past two summers were too much for a tree native to the United States east of the Mississippi River, he said.
In its native environment the tree can live 400 to 500 years and grow to a towering 190 feet, he said.
The Oakwood Cemetery tree is short and young by those standards. But it still the tallest tree in the cemetery at about 100 feet and was at least 100 years old, Boyd said. At that age, it survived past droughts, including the record hot, dry years of the 1930s.
"It was smaller then and didn't need as much water," Boyd said.
He would be interested in counting its rings to determine its age when it is removed, Boyd said.
Impressed with the tree's size, he once sent measurements of its trunk circumference, canopy and height to the Kansas Forest Service to see if it was a record for the state. He learned a tree in Wathena had a bigger overall score in the formula used to designate "champion" trees because it was taller and had a larger crown cover, although the Baldwin City tree's trunk circumference was greater than the 14 foot, 6 inches of that tree.
The tree wasn't in perfect health before the two-year drought, as evidenced by a dead spot on the west side of its trunk. Longtime Oakwood Cemetery caretaker Gary Murray said that was the result of a lightning six or seven years ago.
It is not the only Baldwin City tree to fall victim to the latest drought. The Baker University campus lost 50 trees from last year's heat and drought and 18 died after the summer of 2011, said Boyd, who is the school's director of natural areas and a member of its Ivan Boyd Arboretum Committee.
The university has 450 trees on campus representing about 105 species, Boyd said.
Dead trees also can be found along Baldwin City streets. Most, including some of the city's signature maples, are of species not adapted to survive prolonged drought, although Boyd said native red buds also suffered.
Boyd has given a lot of thought to what species property owners should plant to replace lost trees, Boyd said. He advises against maples, despite their association with Baldwin City.
Nurseries push red maples because they transplant easily and thrive early, Boyd said. For those who insist on maples despite their vulnerability to drought, Boyd said sugar maples are a better option.
As an alternative, Boyd recommends oak trees, including burr and pin oaks, which also provide color in the fall.
"People don't want oaks because they say they grow so slowly, but a burr oak can grow a foot and a half a year," he said.
Elms are also making a comeback, Boyd said.
"They've bred cultivars of American elms that are resistant to Dutch elm disease," he said.