Lawn flags to be back for Fourth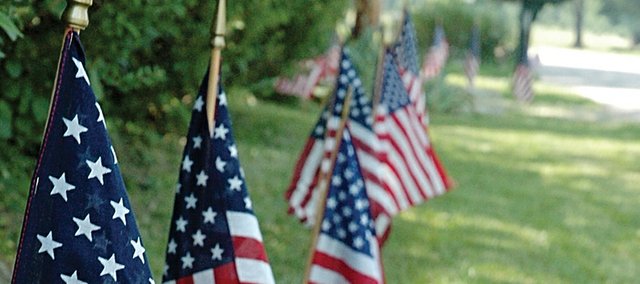 When Baldwin City residents wake tomorrow to the popping of firecrackers, they will once again find small American lawn flags placed in their yards.
Krystal Williams 18 years ago started what has become a tradition when she decided to add some patriotic zip to the local holiday.
"I started it in 1995 as a way of showing appreciation to the community," said Williams, who at the time owned Hedges Real Estate. "My agents and I got up early in the morning to place them."
Williams continued the practice with the help of other city businesses until she retired three years later. Eventually, the practice ended until her husband, Jim Williams, helped revive it in 2010.
Jim Williams said he restarted it because residents missed the flags. As a past president of Baldwin City's Palmyra Masonic Lodge No. 23, he convinced the Masons to help sponsor the flags. Joining in sponsoring the effort this year are American Legion Lloyd Beaton Post No. 228, The Baldwin City Rotary Club, Frank Foye and Santa Fe Market, Baldwin State Bank, Mid-America Bank and Greg Kruger of Kansas State Bank.
Also playing an important role are members of Boy Scout Troop 65, who help with the early morning task of placing the flags.
"I think it's a neat thing," Jim Williams said. "It seems like we average putting up about 1,200 flags. There may be a little more than that."
Baldwin City's holiday activities include a free swimming from 1- 5 p.m. with hot dogs and games at the city pool.
The Baldwin City Recreation Commission is also sponsoring an evening filled with activities at the Bullpup Drive ball field complex. Activities start with family and children's games at 7 p.m. and will continue with a concert from 7:30-9 p.m. by the 40-piece 312th United States Army Band.
The evening will conclude with about 30 minutes of fireworks starting at dark.
Residents can use legal fireworks from 8 a.m. to midnight today and Thursday. The use of bottle rockets or similar devices is prohibited, as is use of any fireworks on public property.