Baldwin school board starts conversation on staff concealed carry, armed guards in schools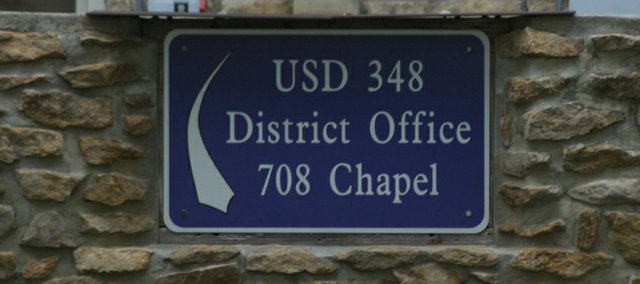 It was a topic he hoped he would never have to bring up, Baldwin Superintendent Paul Dorathy said.
But at Monday's school board meeting, Dorathy started a conversation on the wisdom of allowing armed guards in schools or permitting teachers and staff with concealed carry permits to bring guns into school buildings. It was, he said, a discussion prompted by December's school massacre in Newtown, Conn.
The conversation came after Dorathy informed the board that the city had contacted him about the possibility that the district and city restart a school resource officer program.
Dorathy didn't make a recommendation on armed guards or concealed carry, nor were any specific policy guidelines proposed. The superintendent said he was starting the discussion after speaking with a number of district patrons and because of the actions other districts were taking, one of which was Dorathy's former employer.
"Emporia went through that conversation for years," he said. "The board always turned it down. But just last month, they agreed to have armed guards in their high school and junior highs."
The guards would be required to have law enforcement experience and firearms training, among other requirements, Dorathy said.
Dorathy said another topic patrons brought up was allowing teachers and staff with concealed carry permits to bring firearms into school buildings.
"At one time in my life, I would have said 'no way,'" he said. "But I worry about my staff being put in a position with no protection. In the case of Sandy Hook (in Newtown, Conn.), they had what we have. The shooter took out his gun and shot through the glass on the locked door."
Board member Nick Harris, a teacher in the Shawnee Heights district near Topeka, said that district recently had the same discussion. The district opted not to arm guards or allow concealed carry in schools because the board and superintendent decided students felt safe in the district's schools, he said.
"Granted we have SROs in the high school and junior highs," Harris said. "That makes a lot of difference.
"The biggest problem with concealed carry is if you pull a gun, you better be ready to shoot it. And I don't know if I want that to happen."
Board members Ande Parks and Bill Busby were more candid in their opposition to allowing staff to carry concealed weapons.
"I don't want anybody to have guns in our schools but an SRO or trained security guards," Parks said.
Busby agreed with that statement, adding, "It would be great to have an SRO."
Board member Ruth Barkley said concealed carry could cover gaps in protection even if the district had an SRO.
"An SRO can only be in one building at a time," she said. "The shooter in Aurora (Colo.) drove a long distance because he knew that building didn't allow concealed carry."
The board made no decision on the issue and agreed the conversation would continue.
As for the city's interest in an SRO, Dorathy said some council members were encouraging the move. City Administrator Chris Lowe was working on the costs and how they might be shared, he said.
Lowe said Tuesday he approached the district about the SRO program, which he would like to see restarted. He and Dorathy hadn't really discussed a timeline for further details, but he would probably want City Council members elected in April to weigh in on the matter, the city administrator said.
The district and the city shared the cost of an SRO in the past, but the district ended the program four years ago in response to state budget cuts, Dorathy said. The program was started with a two-year grant from the U.S. Department of Homeland Security. As that money went away the district's share of the program grew from 20 percent to 70 percent over time, the superintendent said.
In another school safety issue, Dorathy said the district and its four schools were completing emergency operations plans, using a template developed by Kansas Safe and Prepared Schools. The plans should be ready for the board's consideration next month, he said.
Moreover, schools have or will practice emergency drills, Dorathy said.