Baldwin City legislators question governor's proposed budget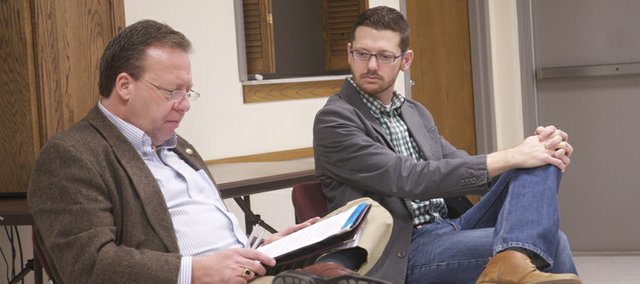 At a town hall meeting Saturday at the Baldwin City Public Library, Sen. Tom Holland compared the state of the state to an ill-planned attack of the munchies.
"The pizza boy is at the door, and they are going through the couch cushions to find the money to pay him," the Baldwin City Democrat said.
The pizza boy in this case is the revenue hit the state will take from the large income tax cuts passed in the 2012 legislative session with the support of Gov. Sam Brownback.
The topic dominated discussion at the meeting at which Holland and Rep. John Wilson, D-Lawrence, addressed a dozen area residents, but also drawing public comments was a proposed change in the nomination process of Kansas Court of Appeals judges, as well as availability of public water wells and a measure to eliminate voluntary paycheck payments for public employee union dues, which prompted a handful of teachers to attend the meeting.

Last session's tax cuts reduced the state's highest income tax rate of 6.45 percent to 4.9 percent, and the bottom rate was reduced from 3.5 percent to 3 percent. It also exempted certain businesses and corporations from income tax on nonwage earnings.
The Kansas Legislative Research Department projects the cuts would create a $2.5 billion state revenue shortfall through fiscal year 2018.
Brownback and his supporters dispute that, arguing the income tax cuts will stimulate investment in the state, which will provide revenue to offset that given up in income taxes.
Holland characterized last year's income tax cuts as fiscally irresponsible, a shift of the tax burden to the poor and middle class, ineffective as an economic stimulus and out of step with the wishes of Kansans.
"This tax plan didn't come from Kansas," he said. "This tax plan came wrapped in a big bow from a Washington, D.C., think tank."
Holland questioned the cuts' effectiveness, saying the Congressional Budget Office has found marginal rate decreases to income taxes don't affect economic growth but do contribute to income inequality.
In Kansas, the consequence would be a tax shift to the middle class as local property taxes increased with the state's failure to fund education or programs beneficial to local governments, Holland said.
Property taxes, and not income taxes, were the primary concern he heard when going door-to-door in last fall's campaign, Holland said. A survey the Docking Institute of Public Affairs at Fort Hays State University conducted last year also found lower property tax was the No. 1 priority among Kansans, he said.
Benefitting the most from the income tax cuts were the governor's well-off supporters, who bankrolled his campaign and those of conservative Republicans who "obliterated" moderate GOP senators in primary races last August, Holland said. Among those supporters were the Koch brothers of Wichita, whose privately owned Koch Industries Inc. qualified for the tax cuts.
Brownback's cushion search for added revenue to pay for the income tax cuts of last year and those proposed this session would make worse the regressive nature of last year's cuts, Holland said. The two-year budget Brownback submitted last week proposes making permanent the 0.6 percent cent sales set to end June 30. The Legislature passed the added sales tax authority in 2010 to provide added revenue during the recession.
The governor also proposed elimination of income tax deductions that homeowners receive for property taxes and interest on mortgages. That would be an average tax increase of $700 for the 300,000 Kansan families who claim the deductions, Holland said.
The proposals have spurred a lot of phone calls and emails to their offices and those of other legislators, Holland and Wilson said.
Conservative Republican legislators are only following up on their sweeping electoral success and now have the votes to successfully implement their agenda, especially in the Senate, the two legislators said. But they are now being asked to support unpopular measures, and that provides Kansas residents the opportunity to influence policy, they said.
"(Lawrence Democrat) Rep. Paul Davis said a lot of this is going to have to be decided in the court of public opinion," Wilson said. "Write letters, make phone calls, send emails and get on Facebook."
Holland and Wilson noted, however, that if conservative lawmakers balked at supporting the sales tax extension the governor was proposing, there would be severe consequences to K-through-12 education funding, which accounts for half the state's budget.

Increasing the Legislature's dilemma is the real possibility the Kansas Supreme Court will uphold a lower court ruling from earlier this month, which found the Legislature was not fulfilling its constitutional responsibility to adequately fund K-through-12 education, Holland said.
Willson said proposed legislation, which would prevent the automatic paycheck deduction of union dues to public employee unions or use of those funds for political purposes, has created a lot of interest.
"I have received more phone calls and emails about that than any other issue," he said. "It is really, I think, a deceptive move to silence teachers unions."
Holland and Wilson said they would schedule another town hall meeting for March unless there was a call from constituents for an early meeting or legislative developments warranted one.