Baldwin edged in Top Gun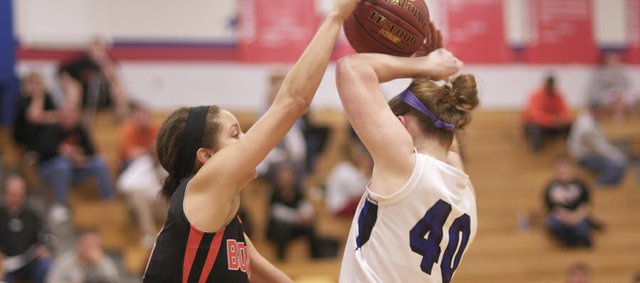 Wellsville — The Baldwin girls let the title of the Top Gun Tournament slip from their grasp, surrendering a eight-point lead in the fourth quarter in a 41-40 loss.
The Bulldogs led throughout the game but could not quite put the Braves away. Still, Baldwin started the fourth quarter with a 36-28 edge and had several good looks in the lane in the period's early going, which would have maintained or extended the lead, but couldn't get the shots to fall. The Bulldogs didn't score until junior Katie Jones converted on a driving jumper in the lane with 4:15 left in the game.
As Baldwin went cold, the Braves went to the free throw line, scoring seven of their 13 points in the quarter at the stripe.
"We put them on the line too much," Baldwin coach Bob Martin said. "In the fourth quarter when we had the lead, we were just not able to put it away."
After a timeout with two minutes to play, the Bulldogs spread the floor, eating clock while looking for a good shot. Baldwin took about 45 seconds off the clock before Bonner Spring Haley Hoffine stole the ball for a break-away layup.
Baldwin had more success finding a shot on the next possession, as Maddie Ogle was able to get open in the lane with a minute to play. The sophomore, was fouled on the shot, but was unable to connect on either free throw.
Freshman Julianne Jackson was fouled on the Braves' following possession, putting Bonner Springs ahead 40-38 with 44 seconds to play.
Baldwin's final chance to win the game ended when Jones was called for charging when driving into the lane with 14 seconds to go.
Martin said the Bulldogs would have to put the game behind them and prepare to a tough stretch of Frontier League game, which starts Tuesday with a home game against De Soto.. The two teams are tied for first place in league play with 4-1 records. The game is also important to the Bulldogs for seeding in next month's sub-state tournament in Ottawa.
"There's no easy games left," Martin said. "We'll see how they respond."
Bonner Springs 41, Baldwin 40
Bonner Spring (12-2) 8 12 8 13 - 41
Baldwin (11-3) 10 15 11 4 - 40
Baldwin: Maddie Ogle 5, Katie Jones 14, Kailyn Smith 10, Callie Enick 2, Jessie Katzer 3, Katie Kehl 4, Hailey Cope 2
Bonner Springs: Haley Hoffine 7, Anna Deegan 13, Julianne Jackson 12, Kkaleigh Taylor 6, Kennedy Bizzell 3