League of cards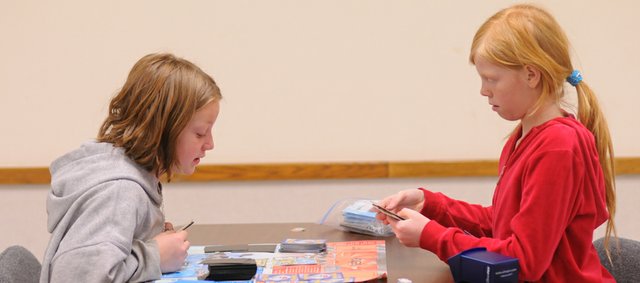 During what was probably the battle of the day at Saturday's Baldwin City Pokémon league, Cora Martin prepared to put the best card of her "evil" deck in play.
"This is a good game," said Martin, who founded the league in 2007. "I'll bring up Hydreigon."
"Do you have an energy card?" her opponent James Jarvis asked.
Sheepishly, Martin allowed that she didn't. It was an oversight that would have doomed her attack had not James Jarvis graciously offered Martin the chance to replay her hand.
Jarvis is not a regular at the Pokémon league Martin founded, which meets from 1 p.m. to 5 p.m. most Saturdays at the Baldwin City Public Library. Now 17 years old, he started playing video games in the third grade. One of the early videos games he played was Pokémon, which led to an interest in the card game that spun off from the electronic version.
Although he now mostly plays Pokémon and other games at his home and those of his friends, Jarvis has history with the Pokémon league, which annually sends players to advanced competitions.
"I did pretty well at state," Jarvis conceded.
So when Jarvis and two friends showed up Saturday packing Pokémon decks, Martin eagerly challenged him to a battle.

In a game — or battle — opponents play combinations of Pokémon (an active battle card), energy, trainer, stadium and supporter cards from 60-card decks they strategically assemble from thousands of cards available.
To an outsider, the action is as baffling as "bishop to queen's pawn four" would be to a checkers player. But Martin said the game was simple enough for preschoolers to enjoy yet complex enough to engage adults.
"You're never too old," she said. "We have 4-year-old players, and I've seen people in their 70s playing in the nationals."
On Saturday, a dozen players from 8 years of age to adult faced off in battle or compared card collections kept in special containers or display albums.
As Jarvis and Martin played on one table, 10-year-old Shelby Crum and 9-year-old Isabelle Parks battled on another. It was a special day for Shelby, who earned a sticker for her first battle victory.
"She's a fast learner," Parks said.
"She's the best teacher I've ever had," Shelby replied to the compliment.
Helping all young players in the league is Tanya Renfro, who recently earned the title of Pokémon professor after passing an exam. She acts as the league's general facilitator, handing out badges and stickers for those hitting milestones, and is the resident league authority on game and tournament rules.
Keeping up with the rules requires some research because unlike other card games, the Pokémon Trading Card Game evolves with the introduction of new playing cards, such as those that will be handed out at a pre-release tournament this coming Saturday at the library.
That will attract a big turnout, rivaling that of last month's city championship, which drew 40 players, Martin and Renfro said.
The key to Pokémon success is familiarity with cards old and new, said Jarvis, who plans to attend the pre-release tournament.
"You have to know what your opponent's cards strengths are and how to stop them," he said. "You need to know what your cards can do and what are their attack values, weaknesses and resistances are."
Baldwin City league players have mastered that well enough in the past to compete at any level, Martin said.
"We've had several people go to nationals," she said. "We've sent five kids to the world championships. That's pretty neat."
But Martin said players don't need that level of success and the scholarships it can bring to benefit from Pokémon.
"It's competitive, but it in a fun way," Martin said. "It's very educational. It teaches kids math, reading and reading comprehension skills.
"There's a lot of strategy involved."