Baldwin moves to Top Gun final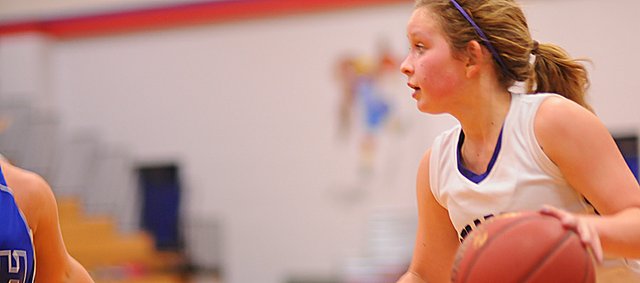 Wellsville ¬¬– The Baldwin girls survived St. Marys' fourth-quarter 3-point marksmanship to move on the finals of the Wellsville Top Gun Tournament.
Baldwin separated from St. Marys early and never trailed in the ballgame but was never able to put the Bears away.
The Bulldogs started the game strong inside with Maddie Ogle getting six of her 10 points in the quarter and Jessie Katzer adding another basket on an offensive rebound. But after Baldwin built a 12-5 lead at the end of the opening period, St. Marys was able to clamp down inside while Baldwin never found its outside shooting.
While the offensive stumbled, the Bulldogs' defense was strong throughout the game, as it has been all year. A key was the play of junior Katie Jones, who Baldwin coach Bob Martin assigned to Bears' star Clare Thomas.
"Katie did a great job on her, really with the help of her teammates," Martin said. "I was worried how we would match up with her. We started the game with Katie on her, and she was doing a good job so stayed with her."
Although Baldwin (11-2) had the lead throughout the game and built its advantage to 29-16 halfway through the third quarter, St. Marys fought back on the strength of its 3-point shooting, including three in the fourth quarter and two in the game's last minute.
"They are a competitive team," Martin said. "They didn't give up on us."
But Martin said his team did "everything we could to keep them in the game." That included taking some ill-advised shots in fourth quarter when the Bulldogs had a six- and eight-point lead.
The one thing the Bulldogs did well, which proved the difference, was make free throws. Baldwin connected on 8-10 free throws in the 1:05 to ice the victory.
Baldwin, which won its eighth-straight game to improve to 11-2 on the season, will face Bonner Springs for the Top Gun championship.
Martin said the athletic Braves will give the Bulldogs a good test.
"I'm looking forward to it," he said.
The game starts at 5 p.m. Saturday at Wellsville High School.
Baldwin 44, St. Marys 40
Baldwin 12 8 11 13 – 44
St. Marys 5 9 12 14 - 40
St. Marys: Patty Thomas 14, Clare Thomas 13, Stephani Robbins 5, Maria Maylan 8
Baldwin: Maddie Ogle 10, Katie Jones 10, Kailyn Smith 11, Katie Kehl 7, Hailey Cope 1, Jessie Katzer 5


Bonner Springs 40, Spring Hill 26
BSHS 13 10 9 8 - 40
SHHS 2 9 8 7 - 26