Baldwin wrestlers to be back home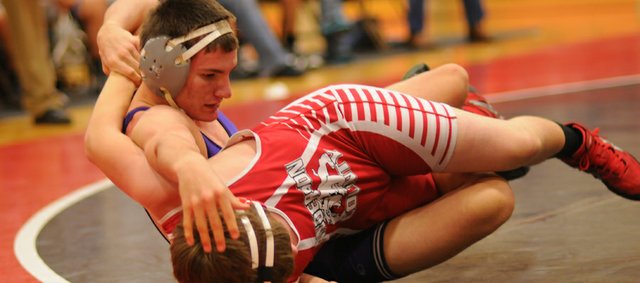 Baldwin wrestlers, who have ground it out since returning from the holiday break at large tournaments at Bonner Springs and Basehor-Linwood and a dual meet at Burlington, will be in front of home fans Saturday for the annual Baldwin Invitational Tournament at the Baldwin Junior High School gymnasium.
Coach Kit Harris said this year's tournament would be the biggest in its history. Sixteen teams from two states will compete in the event on four mats, including defending champion Prairie View and current eighth-ranked 4A team Tonganoxie and 10th-ranked team Holton. Making the trip from across the state line will be an always good Oak Park, Mo., squad.
"There will be a lot of strong 4A teams in attendance, plus a lot of pre-regional and state matchups will be happening," he said.
Wrestling fans will be able to watch a number of highly ranked wrestlers, including three top-ranked in their respective states. Those include Baldwin's Bryce Shoemaker, No. 1 in Kansas 4A at 138 pounds; Oak Park's Noah Teaney, No. 1 in Missouri Class 3 at 120 pounds; and Wamego's Kyle Wilson, No. 1 in Kansas 4A at 132 pounds.
Wilson will be defending that ranking in a very competitive field, which included three other ranked wrestlers, including Tucker Clark of Baldwin.
Seven weight classes will have more than one ranked wrestler vying for the BIT crown.
Action starts at 9 a.m. and with the countdown to the finals starting at 4 p.m. with ninth-, seventh- and fifth-place matches.
Baldwin fell in a road dual at Burlington, 39-35, giving the team a 4-2 dual record on the season. The Bulldogs had six starters out of the lineup because of illness, injury or absent to make the band trip to Orlando. In addition, several starters sat out to save competition points for future meets.
"The team started only one senior and one junior and the rest freshmen and sophomores," Harris said. "It was a great opportunity for the young Bulldogs to compete in a big varsity dual."
The young Bulldogs came close to pulling off a win despite forfeiting three weight classes. In matches wrestled, the Bulldogs actually won five bouts, while only losing four.