Five questions: Winter blues?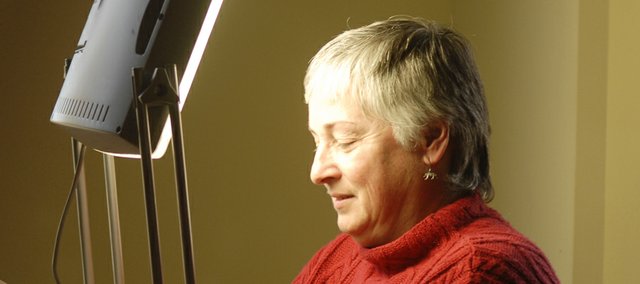 Mental health professionals say feeling down during the winter months may be more than just a case of winter blues. Leslie Guerra, a crisis clinician with the Johnson County Mental Health Center, addresses seasonal affective disorder.
Q: What is seasonal affective disorder, or SAD?
A: SAD is a mood disorder where people suffer from symptoms of depression during the winter months, with symptoms subsiding during the spring and summer months. It is not just "the blues," but has a psychological basis. Symptoms may include feeling depressed, increased sleep and loss of energy, increase in appetite and especially for foods high in carbohydrates, decreased concentration and inability to complete tasks, anxiety, irritability, avoidance of social situations.
Q: How common is SAD?
A: Over 10 million people, or six percent of Americans, suffer from SAD every year. It accounts for about one in three cases of depression and affects women four times as much as men.
Q: What is the treatment for SAD?
A: The primary treatment for SAD is light therapy, which involves a person being exposed to a light source that is five to 20 times brighter than regular indoor lighting. This is supervised by a health care professional and tailored to the needs of the individual in terms of length of time and intensity of light. Medication can sometimes help also and is often used in conjunction with light therapy as needed. Therapy might be helpful also to help a person to restructure their lives and work on preventing bouts in the future.
Q: It eventually goes away, so how serious is SAD really?
A: Left untreated, it could worsen to where a person could become suicidal, is at risk for substance abuse, may struggle with being able to keep a job or to complete school work, and relationships may become impaired.
Q: What should I do if I think I have SAD?
A: Seek help from a primary care physician, primarily to rule out other medical issues. Or go to a mental health professional who can evaluate, diagnose and treat. Along those same lines, a person can try to help themselves with lifestyle changes, such as increasing the amount of light in their home, walking outdoors on sunny days, exercise regularly, learn ways to manage stress and experimenting with sleeping less and eating fewer carbohydrates.