Baldwin girls advance in Top Gun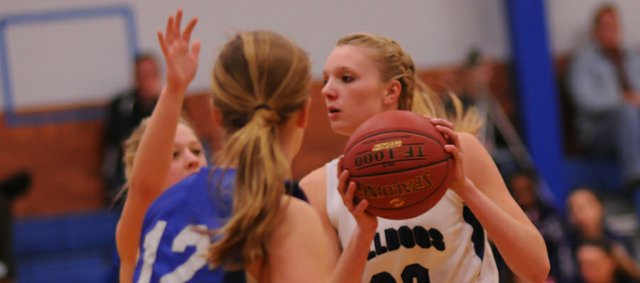 Wellsville — The Baldwin girls earned their second-straight blowout win Tuesday with a 50-22 victory against K.C. Christian in the first round of the Wellsville Top Gun Tournament.
The Bulldogs, top-seeded in the tournament, were coming off a 64-5 win against Osawatomie. And while Tuesday's game wasn't that easy, Baldwin was able once again to get playing time for reserves as it built a big second-half lead.
Baldwin started quick and had a 6-0 lead in the first two minutes of play. The team then stumbled before hitting its stride for 10-straight points in the last two minutes of the period. Leading the way in that stretch was junior guard Katie Jones, who scored five for her game-high 15 points on a 3-pointer and rebound follow in the run.
Baldwin coach Bob Martin said the girls weren't sharp early, struggling against the packed-in Panthers' zone and displaying a little rust from an eight-day layoff. The Bulldogs were also fighting the flu-bug, which kept starting point guard Kailyn Smith out of the lineup, Martin said.
The competition would greatly improve Thursday when the Bulldogs play St. Marys, Martin said. The Bulldogs would be challenged to stop the Bears 5-8 guard Clare Thomas, he said.
"She'll be a tough matchup for us," he said. "Hopefully, we'll be healthy Thursday."
Baldwin, now 9-2 on the year, will play St. Marys at 6:45 Thursday.
Also advancing in the tournament Tuesday were Bonner Springs, which beat host Wellsville, and Spring Hill, a winner against Anderson County.
Baldwin 50, K.C. Christian 22
Baldwin 18 8 7 17 - 50
K.C. Christian 7 6 5 4 - 22
Baldwin: Alexia Stein 2, Kelsey Dighans 8, Maddie Ogle 9, Kaitlin Jorgensen 3, Jessie Katzer 3, Katie Kehl 3, Hailey Cope 9, Katie Jones 15
K.C.C.: Alicia Satelo 3, Kelly White 4, Mary Ellen Kuera 5, Kathryn McGregor 3, Mariah Rogers 5, Libby Fields 2