Baldwin claims
BIT

title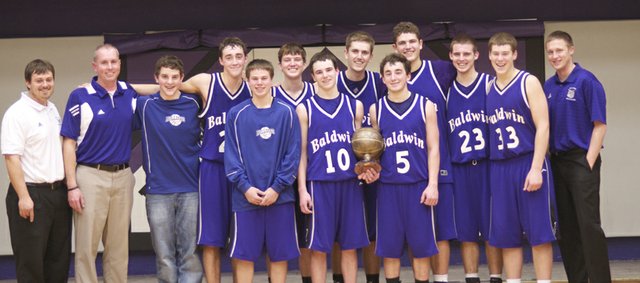 The Baldwin boys got right Saturday what has become a mid-winter rite of the local sports scene.
The Bulldogs defeated Bonner Springs 40-37 in overtime to claim the Baldwin Invitation Tournament title. It was the fourth-straight year the two teams have met in the championship game of the eight-team mid-season tournament, with the Braves claiming the previous three.
Bonner Springs didn't give up its title easily. The Bulldogs and Braves battled back and forth throughout the game, but it was Bonner Springs that looked to have the upper hand with a 35-30 lead 1 minute into the fourth quarter. It was an advantage that seemed larger with the slow offensive pace of the game.
Baldwin would whittle away at the lead with a free throw from junior Luke Fursman and 3-pointer from Tim Craig with 4:10 to play, only to see the Braves' Jordan Jackson give Bonner Springs a three-point edge with a driving layup with just more than 2 minutes to play.
The two teams traded empty possessions before the Bulldogs got the ball with about 1:30 to play. Baldwin worked the ball from side to side with several Baldwin players turning down shots from behind the arch until junior Chad Berg hit a game-tying 3-pointer with 59 seconds on the clock.
The Bulldogs' defense stepped up from there, forcing the Braves to take a bad outside shot on their last possession in regulation and holding them scoreless in overtime as well.
Bulldog junior Michael Burton made the only field goal of overtime with 1:20 to play in the extra period, putting Baldwin up 39-37. Junior Brock Randels would hit one-of-two free throws to give the Bulldogs' their final winning margin.
The title was the Bulldogs' first in the Baldwin Invitational Tournament since 2008.
Baldwin 40, Bonner Springs 37
Baldwin (9-3) 10 7 13 7 3 - 40
Bonner Spring (5-7) 7 15 8 7 0 - 37
Baldwin: Chad Berg 3, Tim Craig 9, Luke Fursman 8, Michael Burton 6, Caleb Gaylord 4, Quinn Twombly 2, Christian Gaylord 8
Bonner Springs: Jason Van Maren 2, Austen Twombley 15, Jordan Jackson 8, Brendan Dotson 2, Travis Dooley 2, Anthony Kubas 2, Tyler Howell 6