Baldwin boys back in finals of
BIT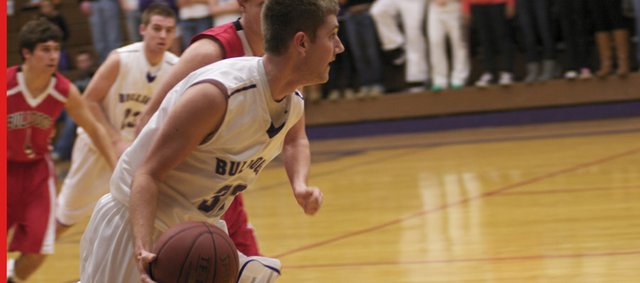 Maybe it should be called the Baldwin/Bonner Springs Invitational Tournament.
For the fourth straight year, the two schools will play for the championship of the Baldwin Invitational Tournament. The Bulldogs made the finals by taking down Anderson County, 57-43.
The Bulldogs struggled in the first half as the Anderson County press forced numerous turnovers. But Baldwin kept the red-and-while Bulldogs in check, too, especially once it dropped into a 1-3-1 zone defense in the later part of the second period.
"They were better this time around," said Baldwin coach Dustin Leochner, referring to his team's 12-point win last month against Anderson County in the Bulldog-Wildcat Classic. "They played well and had a good game plan.
"The 1-3-1 was our primary defense in the second half. We started using it in the second quarter, and it was effective."
Baldwin found its offensive stride with the return from the locker room with the help of a halftime adjustment.
"We went into our ball-screen offense," Leochner said. "We were able to drive better and get better looks."
Baldwin increased its one-point halftime advantage to eight points at the end of the third quarter, putting more points on the scoreboard in the eight-minute span than it had in the first two quarters combined. The trend continued into the fourth quarter as the team scored 19 points. Three second-chance baskets off offensive rebounds by Michael Burton, Quinn Twombly and Luke Fursman aided the offensive efficiency.
Senior Caleb Gaylord was effective throughout the game, scoring on inside moves and stepping out to connect on 3-pointer from the right corner. He led all scorers with 19 points.
Notable in his absence was junior Cornell Brown, who Leochner said was no longer with the team.
The win sat up a championship rematch against three-time defending BIT champion, Bonner Springs.
The Braves ousted No. 1 seeded Wellsville from title contention with grind-it-out 34-25 victory.
Boner Spring erased a 19-15 halftime deficit with a defensive effort that limited the Chargers to just six second-half points. Braves guard Jordan Jackson put his team up by four points, 27-23, about 2 minutes into the fourth quarter. Bonner was content to run the clock on subsequent possessions, eventually forcing Wellsville to foul. The strategy worked as Bonner Spring scored its last eight points of the game from the stripe.
Baldwin will try to end its string of four-straight second-place finished in tournament — the last three at the hands of the Chieftains — when the two teams square off tonight. The tipoff will be at 5:30 p.m.
It will be Baldwin's seventh-straight appearance in the championship game. The Bulldogs last won the BIT in 2008, when it defeated defending state champions Augusta.
The championship game will conclude a full slate of games, which will begin with the seventh-place game at 1 p.m.

Baldwin 57, Anderson County 43
Baldwin 11 8 20 18 – 57
ACHS 12 6 13 12 – 43
Baldwin: Chad Berg 2, Luke Fursman 10, Caleb Gaylord 19, Christian Gaylord 8, Quinn Twombly 5
ACHS: Steve Dial 2, Tanner Lickteig 8, Drew Mechnig 16, Zach Hillard 2, Jack Richabaugh 3, Eric Tastove 5, Spencer Walter 7
Bonner Springs 34-Wellsville 25
BSHS 6 9 10 9 - 34
Wellsville 8 11 4 2 – 25
Bonner Springs: Austen Twombley 17, Moore 4, Jackson 5, Terrell 2, Howell 6
Wellsville: Cole Sillsby 5, Shamus Kearney 9, Luke Meyer 5, Carter Mann 6