Mayoral opening draws interest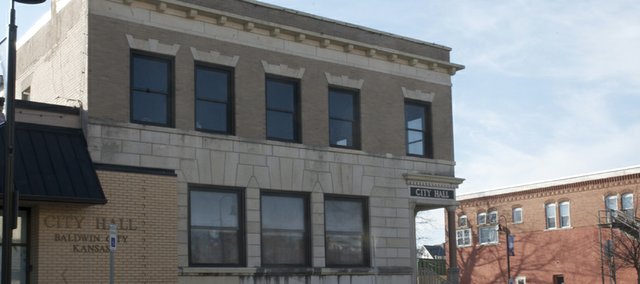 The Baldwin City mayoral position has spurred interest from potential candidates, but there have been no filings as of Tuesday morning for expiring city council or school board positions.
Two current council members and one former council member have now filed for mayor in the wake of Ken Wagner's announcement last week he would not seek re-election. Councilman Jason Mock filed Thursday for the seat, and Marilyn Pearse, who served on council from 1989 to 2003, filed Friday. They join Councilwoman Bonnie Plumberg in the race.
Mock, who was elected to the city council in 2011, said he was eager to take on a new role.
"I saw an opportunity with Ken not filing to step up to a leadership position and continue with what this council has been working on," he said. "I have other ideas of what I would like for the city. I'm looking to step up in a leadership role to guide the council."
While the mayoral contest needs only one more candidate to force a Feb. 26 primary, there has been as yet no official interest for the two city council seats or the four school board seats with terms expiring this year.
Both of the city council seats will be open. Plumberg chose to run for mayor, and Councilman Tom Farmer told The Signal on Tuesday he would not seek re-election.
"I'm the Scoutmaster of the Boy Scout troop, and we also meet on Monday night and I feel like that's where I need to spend my time," said Farmer, who was elected to the council four years ago.
As for the school board, two current board members, Bill Busby of District 2, Position 5 and Ande Parks of District 3, Position 6, are not running for re-election. Ruth Barkley of District 1, Position 5, remains undecided. At-large board member Sheryl Gill has not responded to The Signal's inquiries about her intentions.
The filing deadline in noon Tuesday, but the Douglas County Courthouse and Baldwin City Hall will be closed Monday to honor the birthday of Martin Luther King Jr., reducing by one the days available for candidates to file.
Those filing for position board seats must be residents of the districts they would represent. District 1 includes all of the school district north of U.S. Highway 56 and west of Douglas County Road 1055 and neighborhoods immediately east of 1055, including the Signal Ridge subdivision and area south and west of the junior and high school campus. District 2 includes all the remaining territory in the school district west of 1055. District 3 consists of the area west of 1055 and south of U.S. 56.