Digital decision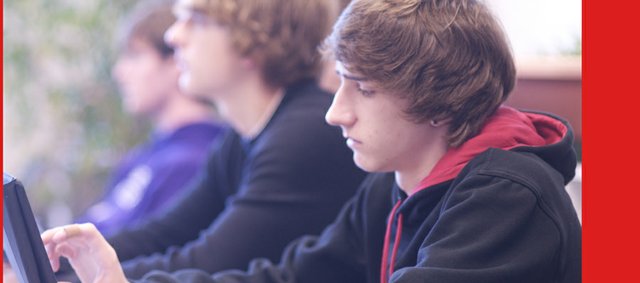 Rachel Smith said she shocked the students in her Baldwin High School 21st century literature class last month on the day of their final.
"I told them to turn in their iPads when they were finished with their final," she said. "They looked at me like I was taking their best friend. Our final was on the first day of finals. They were using them for their other classes and had all their notes and projects on them."
Realizing the use students were making of the iPads, Smith relented and allowed the students to keep the iPads until they finished all their first-semester finals.
For three years, Smith's 21st century literature class has been a pilot program for the use of Apple's popular tablet computer at Baldwin High School. The 25 students in the course open to juniors and seniors are given iPads for the semester, which they are free to use in other classes and take home at nights.
Sometime in the next two to three months, Baldwin High School Principal Rob McKim will decide whether to recommend expansion of the pilot program to all students at the high school for next year.
USD 438 Superintendent Paul Dorathy started the pilot program as the first step in an initiative to place one-to-one full-time computer technology into the hands of students.
"I was looking for something that was cost effective, portable and easy for students to use," he said. "I felt like the iPad was a good option for that. A lot of school districts went in the laptop direction and have since decided to change over to the iPad."
At Dorathy's recommendation, the board approved the $25,000 purchase of iPads for all the school's faculty members for this year. The purchase was made so faculty could become familiar with the devices and start training for their uses in the classroom should they be made available to all students in 2013-2014.
Although board members supported that move, they have voiced concerns about the expansion. They worried about the need to replace lost, broken or stolen iPads, possible added or hidden costs for tech support and maintenance, and students visiting inappropriate sites.
Smith's pilot program has quieted some of those concerns.
"In three years, I have not had one iPad lost, stolen or broken," she said. "Sometimes, a student can't get access to an app (application) the rest of the class is using, but that's part of problem solving. We say, 'OK, that's not going to work. Let's try something else.' And kids have the capability of doing that."
Students in the class are given uncensored access to the Internet, Smith said.
"We don't really censor what they do on them, but they don't abuse it," she said of students going to inappropriate sites or playing games during school study periods. "They know they are for school work, and we really haven't had problems. We have great kids in this school. But in the event something happens, we use it as a teaching moment."
The school has found further safeguards, McKim said. It has found an app that can quickly and easily reveal what Internet sites students have visited and another that allows instructors to control all iPads in the classroom, he said.
But perhaps the most important test asked of the pilot program was to find out whether the iPads could be a viable learning tool or merely an expensive toy. Smith said it was a question she put to her first class of students, who were taking the course to meet a requirement and not a love of reading or literature.
"They said it was definitely a tool," she said. "Kids who had read very little said they were reading for hours."
Smith said students also read more books beyond the one they were required to read for each section.
She required or encouraged students to use features available on the iPads to enrich the reading and learning experience, Smith said. Some of those, such as highlighting key words, phases or passages or writing notes on the text, would be discouraged in district-owned books.
The class keeps evolving as students teach her new ways to use the iPads, Smith said. She views the empowerment of students to learn and adapt in the technical environment as they search for ways to access information as another benefit of the iPads.
"They are digital natives," she said. "They open doors and find ways to solve problems."

The iPads have worked well in her class but would be a better fit for math and science classes, Smith said. They allow students to expand notes with drawings, charts and graphs, while digital textbooks and apps provide access to videos of subjects they are studying, she said.
That is what his faculty has been discovering as they became familiar with the iPads they received, McKim said. To help with that process, the school has brought in Kansas University professors and others with knowledge of how to use the devices in the classroom and is scheduling visits to schools where they are already in use, he said.
Last weekend, he received an email from one of the high school's biology and chemistry teachers excited about the educational applications being demonstrated at a seminar, McKim said.
"They still have to get into the lab to dissect the pig, but they will be able to view video experiments on the human heart — something they would not be able to do in our science lab," he said.

But as excited as some teachers are, the school and the district are still in the evaluation stage, McKim said. The deciding factor will be whether the school's faculty thinks iPads will be a useful classroom tool.
"I've been an advocate, but I want the high school staff to tell me they are on board with this," Dorathy said. "If they say they are not ready or this is not the way to go, I won't move forward and recommend it to the board. If the staff is not on board, it will be a lot tougher to make it work."
It is estimated it will cost $225,000 to provide 400 iPads to all students at the high school in 2013-2014, Dorathy said. The district is now investigating another possible cost.
"We're not sure yet, but it may be necessary to add bandwidth," he said. "If it is, it will cost more money, but I don't have that figure."
It was hoped the digital textbooks used with iPads would cost less than hard copy books because there would be no printing costs, Dorathy said. But he said it appears there won't be significant savings in textbook costs.
There will be costs for apps, but there is an app for that.
"Many apps are free but some we may have to pay a little bit for," Dorathy said. "From time to time, apps that have fees are free as a promotions. We have an app that tracks that. It's just a matter of searching and downloading those apps for free that would usually cost about $3."
If he doesn't recommend the iPads' introduction for next year, it's only a matter of time before they, or some technology like them, are part of the educational experience at Baldwin High School, Dorathy said.
"I still feel regardless of how we come out on this, that this is the future," he said. "Students will be using these kinds of devices in the future. Whether we do it now or five years from now, it's going to happen."